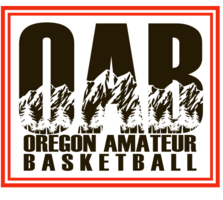 April 7-8, Eugene
April 7-8, 2018 Eugene, Oregon
Messages
Coaches,
The schedule for this weekend is now posted on our website:Oregon Amateur Basketball

TEAMS THAT MISS A GAME FOR ANY REASON WILL BE DROPPED FROM THE TOURNAMENT WITH NO REFUND

ALL TEAMS PLAY 2 GAMES BOTH DAYS (EXCEPTION IS TEAMS WHO REGISTERED FOR SATURDAY OR SUNDAY ONLY). IF YOU CAN'T FIND BOTH YOUR GAMES; CHECK THE BRACKET FOR YOUR DIVISION. IF YOU STILL CAN'T FIND YOUR 2ND GAME, CALL US!
SCOREKEEPERS -All facilities this weekend will provide scorekeepers. These are volunteers from the school we are using. If you have someone keeping a book, we recommend you have them sit at the table to help head off mistakes. In the case of a discrepancy, our referees are instructed to allow input from a book at the table. They are instructed to ignore a book that comes off the bench or out of the stands.

ONLINE STORE -The latest OAB Gear can be found on our website:http://www.wholesale2uapparel.com/OAB/ Check it out!!!!

ADMISSION -Players and 2 coaches are admitted free. 3rd coach pays; all scorekeepers pay. Daily Admission: Adults: $6; Seniors & Youth $5. 10 & under; Free. Cash & Check only. We do not have the ability to take credit/debit. Please make sure your parents are aware of this.
FACILITIES OPEN –Courts will be available for pregame warm-ups 30 minutes before the first game.DO NOT SHOW UP EARLY. YOU WILL BE DENIED ENTRY WHILE WE ARE SETTING UP!!!!

DOWNLOAD OUR APP- We will only have brackets posted at facilities for the teams that are playing there. Please advise your families to download our app! It will have the most up-to-the-minute scores and schedules for all divisions. App downloads can be found on our website:http://oabbasketball.com/

As you will note, I am using Exposure Events this year to schedule and run tournaments and am still working out a couple kinks. If you have any issues with the site, please feel free to call me at (541) 517-4160.

PLAYER ELIGIBIILTY -Players may play on 1 team only at their grade level. Players may not participate at the same grade level in the "Gold" and "Silver" divisions without Tournament Director approval.

3-TEAM POOL -Round Robin; if all 3 teams go 1-1, we use point differential as a tie-breaker.
TOURNAMENT RULES:
2-16 Minute stop-clock halves. Last 4 minutes of the second half will run if the lead is larger than 15 points. If the lead goes under 15 points, normal stop-clock rules will apply
3-Minute Halftime (Might be cut down if we are behind schedule)
5-Minute minimum warm-up time (Will be extended in necessary to avoid game starting early)
3 Timeouts per game (1 additional per overtime up to a maximum of 3)
5 fouls per player
All Overtimes are 2 minutes
No pressing or Trapping with a 25-point lead
Everything else is NFHS rules
REFEREE ISSUES:
COACHES -All of our officials are OSAA or NCAA certified. If you have issues with our officials, please note the time of game and court and give a brief description of the official and the exact issue. DO NOT EVER CONFRONT AN OFFICIAL AND ASK FOR THEIR NAME!!!!I do not deal with referee issues in the gym. Do not call me about officials during the weekend; you won't like the answer I give you.I value your opinion as coaches and want to have the best referees on the court as possible, but there is a system in place that I expect you to respect.
PARENTS -If you have an issue with a referee, you must direct it through your coach. Parents or coaches who confront an official after the game will be banned from future games/events.

My staff and I look forward to hosting you this weekend.

-Nick Larsen
Tournament Director
(541) 517-4160
http://www.oabbasketball.com
oregonamateurbasketball@comcast.net

4/4/2018 1:35 AM
Description
*4-Game Guarantee *Stop-Clock *High School Rules *NFHS or NCAA certified officials *Great Facilities
Tournament
All teams
Boys: 8th, 7th, 6th, 5th
Girls: 8th, 7th, 6th
A/B/C ability level(s)
$250.00 entry fee
4 games guaranteed
Exposure Certified event
Location
---
All event related questions should be directed to Nick Larsen at oregonamateurbasketball@comcast.net or call 541-517-4160.
YOUTH BASKETBALL EVENT, TOURNAMENT AND LEAGUE DIRECTORY
Market your event by submitting it to our directory.
Submit Event