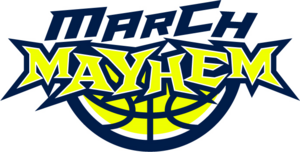 March Mayhem Venues
March 9-10, 2019 Syracuse, New York
Messages
Coaches/Players and Fans

Please check this updated schedule from this afternoon at 3:30 pm. We missed one request that was submitted prior to the deadline. No more request will be granted and the schedule is finial.
Thank you again for registering your team/teams for the 2019 March Mayheim presented by Dick's Sporting Goods. We are looking forward to seeing you and your teams this weekend.
Please review the tournament rules before the tournamentMarch Mayhem Tournament Rules

As always, we will be enforcing the coaching section and we ask for your cooperation.
A Coach Coaching more than one team must have an assistant coach available.
Only Two Coaching Passes per Team.
Only Two Coaches allowed per Bench Area.
Only One Coach standing per team.
Team on the left of the schedule is considered the home teamnon the schedule (wear light color if available) and the Team Sits on the right (Facing the Court) of the scorer's table
We provide score keepers/clock operators. If you have a team score keeper they will have to keep their book from the fan section,as only Official Personnel are allowed at the scoring table.
Coaches you must check in at the main entrance lobby before your first game.You will then be issued your Coaching wristband. If you are not wearing your wristband you will not be allowed in the Bench area. A team with no coach will be issued a forfeit.
Except for the first game of the daywe will start games up to 20 minutes aheadof the scheduled start time.
Please have your team at their assigned court and ready to play.
This is a link to a team by team pool play schedule.
March Mayhem Tournament Schedule
Some of the Divisions Playoff brackets are based on Seeding the top 1stand 2ndplace teams from each pool. The seeding will not be populated into the brackets until the last game in that division is played on Saturday.
Please inform your parents.
Admission is $6.00 DAILY. (wristband must be worn on your wrist all weekend) Children 11 and under are free.
Please be courteous and show your wristband when reentering the facility.

March Mayhem Tournament Venues and Addresses
We wish you and your team safe travel and a great 2019 March Mayhem!!
Thank you,
The Staff Of the 2019 March Mayhem Tournament.

3/7/2019 4:06 AM
Good Evening Coach, Thanks again for a great day of hoops! We are looking forward to another great day tomorrow. Just a reminder to double check your game times/location as all games are now set for tomorrow. Please also remember that we lose an hour of sleep tonight unfortunately! Doors will open at 7:30am at all locations!
Click Here For Sunday Schedule & Brackets
Have a great night!

3/9/2019 10:18 PM
Coaches/Players/Parents/Fans - remember tonight/Moring at 2:00 am the Clocks will SPRING AHEAD. Check the schedule for your gam,es times for tomorrow after your last games in your teams Divisions. Brackets will update after the last game.
Have a great rest of the afternoon and evening

3/9/2019 4:33 PM
The following venues are being used for this event.
Boys & Girls Club of Syracuse
Boys & Girls Club of Syracuse
(B/G )
201 Hamilton Street
Hamilton St. Unit
Syracuse
,
NY
,
13204
Directions
McChensey Community Center
West Genesee Middle School
---
All event related questions should be directed to Patrick "Shawn" Pudney at spudney@verizon.net or call 315-224-1401.
YOUTH BASKETBALL EVENT, TOURNAMENT AND LEAGUE DIRECTORY
Market your event by submitting it to our directory.
Submit Event