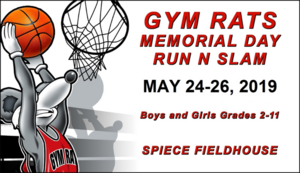 Messages
Coaches Check-In
Coaches Check-In is Friday from 5:30pm-9:30pm and Saturday from 7:30am-4:30pm AT SPIECE FIELDHOUSE. ALL COACHES AND SCOREKEEPERS MUST CHECK-IN AT SPIECE FIELDHOUSE AT LEAST 30 MINUTES BEFORE YOUR FIRST GAME. COACHES WILL VERIFY ROSTERS AND RECEIVE PASSES FOR THE TOURNAMENT.
5/22/2019 10:07 AM
2019 Gym Rats Memorial Day Run N Slam offers the following divisions. Any documents can be viewed, printed or downloaded.

---
All event related questions should be directed to Chris Ponce at chrisp@gymratsbasketball.com or call 260-471-5270.