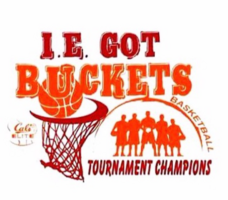 IE GOT BUCKETS SHOWCASE Teams
March 2-3, 2019 Corona, California
Messages
Thank you all for registering to be a part of our IE Got Buckets Showcase this weekend! We are looking for 1 more 9u team to at least play a Saturday only shootout. If you have a team on the fence or know of a program that can help us out, then please reply ASAP! Your help is greatly appreciated.
Cali Elite Staff

2/27/2019 2:46 PM
The following teams are officially participating in the IE GOT BUCKETS SHOWCASE.
Please note however, some participating teams may not be present yet. Click on the team to view more details.
10u
11u East
12u East
13u South
13u/14u
14u/15u
9u
Frosh/Soph
VARSITY
---
All event related questions should be directed to Anthony Nichols at elitesports_basketball@aim.com or call 9097177031.
YOUTH BASKETBALL EVENT, TOURNAMENT AND LEAGUE DIRECTORY
Market your event by submitting it to our directory.
Submit Event