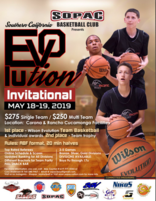 SOUTHERN CALIFORNIA WILSON EVOLUTION INVITATIONAL
May 18-19, 2019 Corona , California
Description
Tournament
All teams
Boys & Girls
Ability: Elite/Competitive/Developmental
$275.00 entry fee
3 Game guarantee
Exposure Certified event
Location
General Information
Two Day Event
Over 100 Teams will be in attendance!

Committed Programs:
Open Gym Premier, San Diego Sabers, Nikos, FBA, DTermined Athletics, Cali Elite, Power Play Hoops, Team Create, Bobcats Elite, San Diego Sol, Genesis Hoops, SoPac, RC Panthers, Valley Playmakers, Revsport, and SGV.


Facilities:

Get it Done/Players Edge Complex
Corona, Ca
Free Parking

& Surrounding Gyms

$275 per team - Multiple Team Discount.

$10 Spectator Cost
2 (20) Min Clock
CIF Officials
Online Scores & Schedules
Full Snack Bar/Clothing Vendors
New Gyms/Free Parking
On-Sight Media - Baller TV

1st Place Official Wilson Evolution Basketball
1st Place T-Shirts
2nd Place Team Trophy


Hotel Accomodations in Corona Area

Ayers Inn - Corona East
2260 Griffin Way
Corona, CA 92879
Tel - 951-738-9113

Ayers Inn - Corona West
1900 Frontage Road
Corona, CA 92882
Tel - 951-738-9113

Hampton Inn & Suites
4250 Riverwalk Parkway
Riverside, CA 92505
Tel - 951-352-5020

Staybridge Suites Corona South
2700 Blue Springs Dr
Corona, CA 92883
Tel - 951-277-9000

SpringHill Suites by Marriott
Corona Riverside
2025 Compton Ave
Corona, CA 92881
Tel - 951-520-0984



For more information, you can call Abe Gaytan @ 619-971-0303 or Cory Anderson @ 760-580-9467. Email @ sopacboys@gmail.com.
Visit us on Instagram - @sopac_basketball
Jr. NBA Member
The Jr. NBA is the official youth basketball participation program of the NBA. The Jr. NBA includes a free, membership-based program for existing youth basketball leagues/organizations. The membership is to help encourage and support youth basketball participation at the grassroots level and improve the overall youth basketball experience for all participants. The Jr. NBA aims to develop a lifelong passion for the game of basketball in boys and girls ages 6-14 by teaching them the fundamentals of the sport while instilling core values including teamwork, respect and sportsmanship.
THE JR. NBA, NBA, AND NBA PROPERTIES DO NOT IN ANY WAY CONTROL OR OPERATE THE ACTIVITIES OF ANY JR. NBA LEAGUE OR TEAM.
BeTheBeast Recruiting
BeTheBeast Recruiting offers the industry's most comprehensive offline and online college sports recruiting solution. It combines the best of one-on-one recruiting coaching with the use of the industry's most powerful online recruiting platform. This breadth of expertise statistically increases a high school athlete's probability of being recruited to play sports in college.
BeTheBeast Recruiting is the most advanced online recruiting platform in the industry. Their proprietary applications enable advanced recruiting strategies to be implemented that result in competitive advantage for BeTheBeast high school athletes.
BeTheBeast Recruiting has partnered with some of the top legends & global ambassadors in their respective sports.Their network of college coach contacts assures that BeTheBeast student - athletes get evaluated.
BeTheBeast Recruiting's staff of former college coaches serve as college sport placement counselors for their clients. They have an in depth knowledge of the recruiting process that assures BeTheBeast players get recruited.
Contact BeTheBeast for an online consultation and any questions you may have.
---
All event related questions should be directed to Abe Gaytan & Cory Anderson at sopacboys@gmail.com or call 619-971-0303.
YOUTH BASKETBALL EVENT, TOURNAMENT AND LEAGUE DIRECTORY
Market your event by submitting it to our directory.
Submit Event