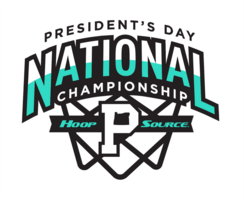 2020 - adidas Presidents' Day TOC (Boys & Girls - Youth)
February 15-17, 2020 Portland, Oregon
Messages
Adidas Presidents' Day Participants!
Get your fresh early look on for the tournament coming up in February!
We have an exclusive partnership with the world renowned Portland Gear this upcoming event! Fresh Shirts and Hoody's are now available for ordering before the arrival of this year's National Championship Presidents' Day event. Look good, feel good, and bring your game on the court! Take a look here and pre-order your merchandise - commemorative tee and hoody:
https://portlandgear.com/search?q=hoopsource&type=product


They will sell out. Get a piece of history before it is gone..........
Support the culture, support the brand. HoopSource/Portland Gear - Unite!
The HoopSource Team

1/20/2020 9:29 PM
Coaches & Program's!
Welcome to this year's Presidents' Day National Championships! You are in great company this season and mixed in with the
#1 ranked tournament in the country (8 years running).
We will enhance your experience to the best of our ability, to help serve you and your program over the weekend of February 15-17th, 2020.
REMINDER!

We ask that you book your hotels immediately, as they will fill up! We ask that you use our liason to book your rooms.
This is in order to provide economic growth and opportunities for the cities of Vancouver, WA and Portland, OR. This is vital to their economy.
We do this using our partner, TCI Housing. Please reach out to Aimee Roberts today, to book your rooms and secure your room blocks. This is an urgent task to do. We don't want you to have to cancel your plans due to the part that you weren't able to get a hotel location you wanted.
Hotel Link:
https://mmxreservations.com/fer/#/TCIHousing?pageCode=Hoopsource2020
Thank you!
Welcome again!
Ryan & Dave
HoopSource Grassroots

1/1/2020 5:16 PM
Sponsors
Description
REGISTRATION DEADLINE: All registrations and payments must be received 10 days prior to the start of the event for our National Presidents' Day TOC. The adidas President's Day running in its 18th year here in Portland (6th under new direction), has lineage in its past of 31 NBA lottery picks, 10,000 teams, 48 states, & highly touted media attention. Over the years we have worked hard to continue the tradition, and inspire new legacies with each year of the event. This tournament is a "must attend" basketball extravaganza year in and year out. We will be raising the bar this season. We are excited to be partnering with SLAM Magazine again this season, as well as numerous other syndicated media outlets such as Coast2Coast Preps, WCE25, and Basketball Prospects Report. Hosted in Portland, OR & Vancouver, WA, your program(s) will experience the greatness of the Pacific NW. For Hotel Information and more information on the "STAY-TO-PLAY" Policy on this event, please contact https://mmxreservations.com/fer/#/TCIHousing?pageCode=Hoopsource2020 or Aimee Roberts @ 801.949.5754. Thank you! This event will sellout EARLY. Last year we sold out with over 400 teams. Make sure to register your teams now so your spot is not taken. Please contact us with any questions. This tournament is rich in history and tradition. You will not be disappointed! See you on the court!
Tournament
All teams
Boys & Girls: 8th, 7th, 6th, 5th, 4th, 3rd, 2nd, 1st, 14U, 13U, 12U, 11U, 10U, 9U, 8U, 7U
Ability: Elite/Competitive/Developmental
$475.00 entry fee
4 Game guarantee
Exposure Certified event
Location
Multiple Locations (Portland Metro, OR & Vancouver, WA)
* All games will be played at facilities within approximately 20 minutes of each other
Portland

,
OR
Directions
General Information
* Each Team is provided 2 bracelets for coaches and 1 bracelet for a scorekeeper/timekeeper (3 Total). Individuals wearing bracelets do not have to pay admission. BRACELETS MUST BE WORN ON YOUR WRIST!
* AN INDIVIDUAL PLAYER IS ONLY ALLOWED TO PLAY WITH ONE (1) SPECIFIED PROGRAM DURING AN EVENT!

* HOOPSOURCE EVENT DIRECTORS WILL HAVE THE FINAL SAY REGARDING ANY EJECTIONS, DISPUTES, OR RULINGS!

* ALL PARTICIPANT WAIVERS CAN BE SUBMITTED ON OUR WEBSITE.

* This tournament offers some of the most competitive HOTEL RATES for you travelling into town & a

REMINDER THAT THIS EVENT IS A STAY TO PLAY EVENT:

https://mmxreservations.com/fer/#/TCIHousing?pageCode=Hoopsource2020 or you can call @ 801.949.5754.

* Make sure to visit our homepage with offers for team dinners, entertainment sites, and things to do while in town in both the cities of Vancouver, WA and Portland, OR. Click these links: www.visitvancouverusa.com
https://www.travelportland.com/
* ALL AFFILIATION TEAMS WELCOME TO REGISTER, NOT EXCLUSIVE TO ADIDAS TEAMS!

NOTE: With the size of this tournament, we will be spanning across multiple facilities. This event will be one of the LARGEST events in the entire country. Games can potentially be played across multiple locations, this includes the Portland (OR) metropolitan area & Vancouver (WA). However, all games within one day will be played at the SAME location. Games will be played within 20 minutes of the Portland airport as a CENTRALIZED point. For Hotel Information and more information on the "STAY-TO-PLAY" Policy, please contact https://mmxreservations.com/fer/#/TCIHousing?pageCode=Hoopsource2020 or Aimee Roberts @ 801.949.5754! Thank you!

* Note: (First games can potentially be played at 8 am on Saturday morning)
Registration
Registration is currently open for the following divisions:
To make a payment please visit the payments section of the event.
Jr. NBA Member
The Jr. NBA is the official youth basketball participation program of the NBA. The Jr. NBA includes a free, membership-based program for existing youth basketball leagues/organizations. The membership is to help encourage and support youth basketball participation at the grassroots level and improve the overall youth basketball experience for all participants. The Jr. NBA aims to develop a lifelong passion for the game of basketball in boys and girls ages 6-14 by teaching them the fundamentals of the sport while instilling core values including teamwork, respect and sportsmanship.
THE JR. NBA, NBA, AND NBA PROPERTIES DO NOT IN ANY WAY CONTROL OR OPERATE THE ACTIVITIES OF ANY JR. NBA LEAGUE OR TEAM.
---
All event related questions should be directed to HoopSource Basketball at contact@hoopsourcebasketball.com or call 503.512.9197.
YOUTH BASKETBALL EVENT, TOURNAMENT AND LEAGUE DIRECTORY
Market your event by submitting it to our directory.
Submit Event