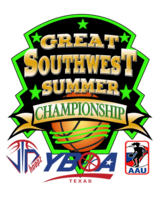 The Great Southwest Summer Championship
June 15-16, 2019 Mansfield, Texas
Messages
Hello Coaches!!
Due to the overwhelming requests. We will be doing a Winter League
December 2019 preseason games & Jan - Feb 2020 Season games
Exact same format as the fall league. Playing every other weekend.
It will be hosted at the Mansfield Fieldhouse.
Cost will be $550 for new teams and $500 for teams that have played
with me before.
If you are interested, please email:
larrymenendezjr.yboatexas@gmail.com

9/12/2019 6:37 AM
All Teams receive:
-10 game guarantee (2 games every other Saturday)
-Discounted entry fee to P2P Finals in Windsor, Colorado
-Discounted entry fee to 2020 YBOA Texas State Championship

All 1st place season teams receive:
-Rings (players)
-Free entry to YBOA Texas State Championship (1st weekend in May 2020)
-Free Entry to P2P Finals
All-Star game

Schedule:
September 8-Two pool games each (Preseason) girls & boys
September 14- girls
September 21- boys
September 28- girls
October 5- boys
October 12- girls
October 19- boys
October 26- girls
November 2- boys
November 3-All-Star Sunday/Season Rings presentation (girls & boys)

FYI:
4th - 8th grade (ONLY5 teams per Division) (play each team twice in season)
You coach and we ref & keep score
4 periods clock only stop on free throws
4 timeouts per game
$5 Adult entry fee &
$3 student entry fee
$550 per team/$500 for returning teams (a steal for what you get in return)
Deadline to signup is August 16th and ALL payments are due by August 23, 2019.
Larry Menendez Jr.
205-447-0668
Attachment
7/9/2019 6:47 AM
Get registered quickly!
5 teams per division
All games played at Mansfield Fieldhouse.
See attached!!
Attachment
6/25/2019 1:08 PM
Description
The Great Southwest Summer Championship
Tournament
All teams
Boys & Girls
$200.00-$250.00 entry fee
3 Game guarantee
Location
General Information
The Inaugural Great Southwest Summer Championship in beautiful Mansfield, TX. This is a National event that will feature the top teams from AAU, YBOA, & VIP HOOPZ. There will be certified officials with scorekeepers.

The awards will be National level awards with all the games under the same roof.

3 game minimum with pool and bracket play

There are No refunds.
---
All event related questions should be directed to Larry Menendez at larrymenendezjr.yboatexas@gmail.com or call 205-447-0668.
YOUTH BASKETBALL EVENT, TOURNAMENT AND LEAGUE DIRECTORY
Market your event by submitting it to our directory.
Submit Event