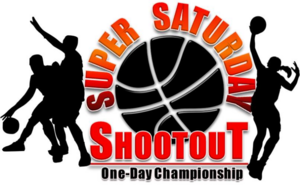 Super Saturday Shootout 1-Day Championship
May 11, 2019 Rochester, New York
Description
11th annual regional event featuring our popular 1-day format! 100's of teams have attended our events. Professionally run: Quality Venues, Mobile App Game Updates/Scheduling, Certified Refs, Recorded Game Highlights.
Tournament
All teams
Boys & Girls
A/B/C ability level(s)
$285.00-$295.00 entry fee
3 Game guarantee
Location
AAU Licensed
AAU Licensed #: 9KNIBA2892
This event is licensed by the Amateur Athletic Union of the U. S., Inc.
All participants must have a current AAU membership.
AAU membership may not be included as part of the entry fee to the event.
AAU membership must be obtained before the competition begins except where the event operator has a laptop available with an internet connect. Participants are encouraged to visit the AAU web site to obtain their membership.
USA Youth Development Certified
Verify that this organization is USA Youth Development certified by visiting the organization lookup on the USA Basketball site.
The USA Basketball Licensing and Accreditation programs set national standards for coaches, administrators and organizations as they strive to become their best. These initiatives aim to enhance enjoyment, participation and development in the game through coach education and training. Make a commitment to the values of fun and safety by imparting the USA Basketball curriculum and guidelines.
Jr. NBA Member
The Jr. NBA is the official youth basketball participation program of the NBA. The Jr. NBA includes a free, membership-based program for existing youth basketball leagues/organizations. The membership is to help encourage and support youth basketball participation at the grassroots level and improve the overall youth basketball experience for all participants. The Jr. NBA aims to develop a lifelong passion for the game of basketball in boys and girls ages 6-14 by teaching them the fundamentals of the sport while instilling core values including teamwork, respect and sportsmanship.
THE JR. NBA, NBA, AND NBA PROPERTIES DO NOT IN ANY WAY CONTROL OR OPERATE THE ACTIVITIES OF ANY JR. NBA LEAGUE OR TEAM.
BeTheBeast Recruiting
BeTheBeast Recruiting offers the industry's most comprehensive offline and online college sports recruiting solution. It combines the best of one-on-one recruiting coaching with the use of the industry's most powerful online recruiting platform. This breadth of expertise statistically increases a high school athlete's probability of being recruited to play sports in college.
BeTheBeast Recruiting is the most advanced online recruiting platform in the industry. Their proprietary applications enable advanced recruiting strategies to be implemented that result in competitive advantage for BeTheBeast high school athletes.
BeTheBeast Recruiting has partnered with some of the top legends & global ambassadors in their respective sports.Their network of college coach contacts assures that BeTheBeast student - athletes get evaluated.
BeTheBeast Recruiting's staff of former college coaches serve as college sport placement counselors for their clients. They have an in depth knowledge of the recruiting process that assures BeTheBeast players get recruited.
Contact BeTheBeast for an online consultation and any questions you may have.
FastRecruit Enabled
FastRecruit is a one-of-a-kind iOS mobile application for College Coaches that provides tournament schedule updates and scores quicker than ever (goodbye, paper grids) and takes the pain out of staff coordination.
Contact FastModel for an online consultation and any questions you may have.
---
All event related questions should be directed to Marc Robinson at Marc@RobinsonBasketball.com or call 585-709-60006.
YOUTH BASKETBALL EVENT, TOURNAMENT AND LEAGUE DIRECTORY
Market your event by submitting it to our directory.
Submit Event