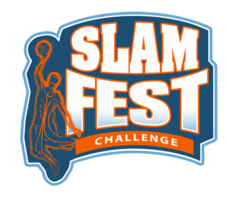 Spring Slam Fest 4/27 & 4/28 Schedule
April 27-28, 2019 Syracuse, New York
Messages
Good Afternoon, Coach/Players and Parents. We are excited to have you as a part of this year's Slam Fest Basketball Challenge hosted by Syracuse Select Basketball and Dick's Sporting Goods! This is the Second tournament of our spring tournament series, and we have a sold out field and some great competition overall. With that being said, below we have provided you with the information needed to relay to your parents for the weekend. We have done our best to accommodate all schedule requests as close as is humanly possible. The schedule at this point is final, unless there was an error made on our end that we need to adjust. At that point, we will notify you directly if the schedule has changed. Please note that we are using three different facilities this weekend. Below are the addresses and locations. Feel free to reach out if you have any further questions.
Schedule: Slam Fest Challenge Schedule
Challenge Game Rules
Admission: There is an admission charge for any spectators 12 & older. $7/daily
Facilities: Directions To Venues Syracuse Select Basketball
APP: Syracuse Select Basketball has partnered with Exposure events and they have provided us a customized app for all our events. This app allows you to check standings, game times, bracket times, and scores of games. We highly recommend that you download the app to follow what is transpiring in the event. You will go to your app store and search "Syracuse Select". If you have any problem with this, please let us know. Great tool for coaches and parents! Here are some important things for the weekend: DOWNLOAD OUR APP Syracuse Select – is a FREE iPhone and Android device app that will make the entire tournament process much easier. The APP includes addresses to all sites, pools/brackets for each division, standings within your pool, updated results for the entire tournament, pictures of the scoresheets after the game, and much more. This APP should be your 1st choice for the most up-to-date schedule information. Syracuse Select Basketball Club Apple App Syracuse Select Basketball Club Android App
Looking forward to a great weekend!
Shawn Pudney Director of Syracuse Select Basketball www.syracuseselect.com

4/21/2019 3:55 PM
Standings
No pool found for this division.
* Game(s) won't count against standings
Schedule
No games were found scheduled.
* Games won't count against standings
---
All event related questions should be directed to Patrick "Shawn" Pudney at spudney@verizon.net or call 315-288-5118.
YOUTH BASKETBALL EVENT, TOURNAMENT AND LEAGUE DIRECTORY
Market your event by submitting it to our directory.
Submit Event