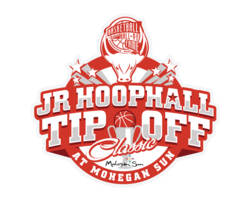 Basketbull
presents
Junior Hoophall Tip-Off Classic - Mohegan 2019
Messages
Tourney Rules
Coaches,

Please see the attached tournament rules for this weekend. Any questions with the rules, please let us klnow.

Thank you,

BasketBull Staff
Schedule Updates
Coaches,

Please make sure to check the schedule online and on the APP. We had to make some changes to divisions/pools, which may have affected teams' schedule. We tried to contact all teams involved before making the change, but please double check. Additionally, some of the game times for bracket play were adjusted as well on Sunday.

Thank you for your understanding.

BasketBull Staff
11/21/2019 10:45 PM
Age/Grade Rules
Coaches,

The previous message that had the tournament rules included information on our Age/Grade playing rules.

One additional point regarding tournament rules for age/grade:

Age divisions are set for BOYS AAU teams only in the 11u-14u divisions. Girls teams ALL follow Grade based.

For boys AAU teams in High School divisions, it is GRADE based.

For town/travel/suburban (boys/girls) teams, it is GRADE based as well.
11/21/2019 10:51 PM
BasketBull Staffing
Site Directors for this weekend:

Luc Smith - 413-345-4604

Jim Hart - 413-627-0193

Team Registration/Tournament Admission/College Tickets

Olivia Collette - 203-886-8100
11/21/2019 10:53 PM
Athletic Trainers
Athletic Trainers


Martin Rokita - 860-356-6497

Brandon Holmquist - 207-228-5384

Jacob Ober - 860-759-4467
11/21/2019 10:58 PM
College Game Tickets
Coaches,

Please let parents know there is nothing more we can do to help them get tickets to the college games at the discounted price. Mohegan Sun and Ticketmaster gave us a deadline of Thursday AM, which we extended to Thursday at noon to have our discounted ticket orders placed by. We communicated this to you guys last week and again this week.

We have received a bunch of phone calls and emails asking us to help purchase tickets at the discounted rate. Unfortunately, it is no longer available. All ticket orders will need to occur directly with the ticket master or at Mohegan Sun.

Thank you,

BasketBull Staff
11/22/2019 2:32 PM
Description
The 2nd annual Jr. HoopHall Championships at Mohegan Sun in Uncasville, CT is an event held in conjunction with the Hall of Fame Tip-Off Classic college tournament. As part of the tournament registration, you will get tickets to attend one of the sessions of the Tip-Off Classic in 2019, which features: . All games will be played in the brand new Mohegan Sun Convention Center, with between 8 and 12 courts available in one convention hall.
Tournament
All teams
Boys & Girls
Ability: Elite/Competitive
$475.00 entry fee
3 game guarantee
Exposure Certified
Location
Mohegan Sun - Convention Center
1 Mohegan Sun Blvd
Uncasville

,
CT
,

06382
Directions
General Information
Tournament Dates: November 22-24th, 2019
Deadline to register, November 17th (or until full....It sold out in 2018).
Travel/CYO Division - 5th, 6th, 7th, 8th grade divisions (A and B level teams accepted). We will do our best to place teams in appropriate divsions, based on # of registrations.
AAU Division - 11u, 12u, 13u, and 14u teams. (A and B level teams accepted). We will do our best to place teams in appropriate divsions, based on # of registrations.

Hall of Fame Tip-Off Classic - College Tournament - each team gets 12 tickets to attend the college games on either Saturday OR Sunday. Click link for schedule

Parents/Familes - to purchase additional tickets to the college games, at $15 per ticket, clik the link here - Hall of Fame Tip-Off Classic College Game Tickets
A and B divisions, if possible.
---
All event related questions should be directed to Colin Tabb at CTabb@Basketbull.org or call 413-382-0272.