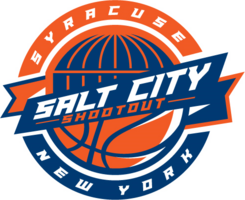 Salt City Shootout Schedule
May 18-19, 2019 Syracuse, New York
Messages
The 2019 Salt City Shoot-out schedule is now posted.
Schedule will only be change if we made a procedural error. The Management of Dick's Sporting Goods Series thanks you in advance for following Tournament Procedures.
For any schedule procedural errors, please email
syracuseselect@verizon.com
. DO NOT CALL.
Check back often for any changes.Coaches and Parents Download the App and click Follow your team for live updates of schedule changes, scores, next game location etc.
Download the Syracuse Select Basketball Club App
Tournament Rules
TOURNAMENT SCHEDULE
Head Coaches only! - The emergency contact for the event will be Shawn Pudney Tournament Director. His contact information is spudney@verizon.net. Coaches - We request you check your game scores 30-45 minutes after your game to make sure of accuracy.
Click Here For Game Rules
Admission: $7/day and $12 for the weekend. 10 and under is free
Senior & Students $5
Venue Directions
As stated in the tournament rules, except for first game of the day, games may start up to 20 minutes early. Be Prepared to Play.
Again, we are looking forward to seeing you and thank you again for competing in our event.
Syracuse Select Basketball Staff
30 - 45 minutes after your games, please check your score to confirm accuracy and report if they are in correct.
Lastly, 2 bands per team No exception to this policy

5/18/2019 6:12 PM
Standings
No pool found for this division.
* Game(s) won't count against standings
Schedule
No games were found scheduled.
* Games won't count against standings
Brackets
No brackets found in this division.
---
All event related questions should be directed to Patrick "Shawn" Pudney at syracuseselect@verizon.net or call 315-288-5118.
YOUTH BASKETBALL EVENT, TOURNAMENT AND LEAGUE DIRECTORY
Market your event by submitting it to our directory.
Submit Event