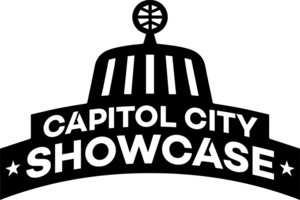 Capitol City Showcase
December 14-15, 2019 Salem, Oregon
Sponsors
Description
The 5th Annual Capitol City Classic Youth Tournament presented by Cascade Sports Camp is a youth tournament for boys and girls in grades 4-8 to be held in Salem, Oregon at McNary High, Sprague High & West Salem High and/or feeder schools. Three divisions per gender -- Open, School Competitive, & School Recreational -- allow for competition to suit every team. A community-driven tourney the funds raised from which support the Capitol City Classic (the Mid-Willamette Valley's premier high school tournament) and local high school programs, this is NOT another for-profit, chain event. AND, where else can you get a free basketball outing for your team, All Week passes to the Capitol City Classic for your coaches, and the opportunity to see the nation's #1-ranked player play for a top 10 high school team in Salem? Other fun features that separate this tourney from the rest are an invitation for participants to attend the Jingle Skills basketball clinic (free of cost for all participants) conducted in conjunction with Camp Cascade, a 3-Point Contest with prizes for winners in all divisions, multiple-team discounts, a partnership with the Wilsonville Winter Classic that offers rebates for teams from that event, and a special lodging deal for out-of-towners at the very nice Hampton Inn & Suites Salem... For lodging info, click here. We hope your team can join us for what promises to be a great tournament this December 14-15 in Salem! "Early Bird" Discount Deadline: November 8 Team Registration Deadline: December 8
Tournament
All teams
Boys & Girls: 8th, 7th, 6th, 5th, 4th
A/B/C ability level(s)
entry fee
4 Game guarantee
Exposure Certified event
Location
West Salem, McNary, & Sprague HS (&/or feeders)
Directions
General Information
Dates:
December 14-15, 2019

Divisions:
Both Boys & Girls
Grades 4-5-6-7-8

Three division options per grade level:

OPEN - Open to all (travel, club, CYO, community &/or school-based teams)

SCHOOL COMPETITIVE - School or community-based competitive teams

SCHOOL RECREATIONAL - School or community-based recreational teams

Games:
4-Game Guarantee for All Teams

Awards:
Prizes for all Division Champions.

Contests:
3-Point Contest by grade and gender with Awards

Team Entry Fee:
"Early Bird" (on or before 11/8): $209/team
Regular (by registration deadline of 12/8): $229/team

Multiple Team Discounts:
Sign-up 3 teams - $204/team by 11-8 || $219/team 11-9 to 12/8
Sign up 5 teams - $199/team by 11-8 || $209/team 11-9 to 12/8
Sign-up 8 teams - $194/team by 11-8 || $199team 11-9 to 12/8

NOTE: Multiple team discounts are valid as stand-alone promotion only... Can be used in conjunction with "Early Bird" Discount, but not with any other special promotions or discounts.

Registration Deadline:
(Midnight, Sunday, 12/8)

Schedule Posted
By midnight Wednesday, December 12/11

Locations:
West Salem High School and/or feeder school(s)
McNary High School and/or feeder school(s)
Sprague High School and/or feeder school(s)

Willamete University (Capitol City Classic HQ site)

Admission Prices:
$6/person per day
Exceptions: 65+/$4 per person per day; 5-and-under/Free

Free Tickets to the 2019 Capitol City Classic

* Every team will receive two (2) All Week Passes ($70 value) to the Capitol City Classic.

* Every team with all required information submitted by 12/8 will receive ten (10) additional student only One Day passes ($90 value) to the 2019 Capitol City Classic top-level high school tournament to be held December 18-23 at Willamette University in Salem. Note: Students must have an ASB, photo-ID to redeem their free passes.

* Teams also may purchase additional packs of 10 student only One Day passes for $10 {$90 value) to the 2019 Capitol City City Classic.

* The CCC is the premier high school basketball event in Oregon's Mid-Willamette Valley. 16 teams will be competing for the Johnny Leonard trophy at Willamette University December 18-23. The headliner team is Rancho Christian (Temecula, CA), a consensus top 10 team in the nation, led by ESPN's #1-ranked prospect in the country in 7'0 Evan Mobley, a USC commit and possible #1 pick in the 2021 NBA Draft. Rancho features more than Mobley, as 6'4 point guard Dominick Harris is a 4-star guard headed for Gonzaga, and the Eagles have plenty of more firepower after those two. Also traveling to Oregon for the CCC will be the Lanier Longhorns, who may have the best backcourt in the event with 6'5 point guard Sion James, a Tulane commit, and 6'0 guard Andrew McConnell, who is ranked in the top 125 in the country in the Class of 2021 by some scouting services. Salem-area teams will include South Salem, Sprague and West Salem, while the Mid-Valley will also be represented by Silverton, West Albany, Central and Corvallis. Thurston from Eugene, and a strong contingent of Portland teams in Sherwood, Wilsonville, Tigard, Parkrose, & Scappoose will also be represented at the Capitol City Classic.

What other youth tournament offers your coaches an all-event pass and your entire team a free excursion where you can watch such high-level hoops, including a player many are saying could be the next Kevin Durant or Giannis Antetokounmpo? NONE... only the Capitol City Showcase!

Play in CCC Youth Tourney and Wilsonville Winter Classic, and Get $10 Rebate! Any teams that play in both the Capitol City Showcase and the Wilsonville Winter Classic (January 4-5) and request it will get a $10 rebate per team from the WWC after that event in early February. NOTE: Stand-alone promotion. Not available with any other discounts aside from Early Bird Discount.

Invitation to "Jingle Skills" Kids Clinic for FREE during Capitol City Classic
All participants of the Capitol City Showcase will be invited to attend the Jingle Skills Kids Clinic conducted in conjunction with Cascade Sports Camp free of charge during the Capitol City Classic. Date, time, location to be announced.

Free Team Outing to Adidas Employee Store - Players and coaches of teams that register for the Capitol City Showcase will receive the opportunity to go to the Adidas Employee Store in Portland for some employee-priced, discounted holiday shopping right before the holidays!

Preferred Lodging Rate for Out of Town Guests at the Hampton Inn & Suites
Mention "Capitol City Classic" during the Capitol City Showcase and/or the CCC and you will get a special preferred rate at the very nice Hampton Inn by Hilton of Salem, located only 2.5 miles from Willamette University. Please call Kinji at 503-362-1300 for more information or go to: https://hamptoninn.hilton.com/en/hp/groups/personalized/S/SLEORHX-CF2-20191212/index.jhtml?WT.mc_id=POG
Registration
Registration is currently open for the following divisions:
To make a payment please visit the payments section of the event.
---
All event related questions should be directed to Aaron Harris at capitolcityclassic1@gmail.com or call 503-348-7323.
YOUTH BASKETBALL EVENT, TOURNAMENT AND LEAGUE DIRECTORY
Market your event by submitting it to our directory.
Submit Event