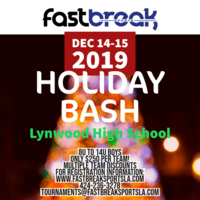 Holiday Bash
December 14-15, 2019 Lynwood, California
Description
This event will feature 8u-17u teams. Please don't hesitate to register for this event. Multiple team discounts are available. 8U to 17U Boys Only $250 per team! 3 game guarantee! (20 minute running clock) CIF/NCAA Certified officials! Birth Certificate/Report Card Checks! Live scoring/bracket updates! Downloadable App! 1st & 2nd place team awards! ALL pool play games at the same location! If you have any questions please call or email Lionel - 323-632-8252 lionel@fastbreaksportsla.com Leland - 310-901-8052 leland@fastbreaksportsla.c
Tournament
All teams
Boys: 17U, 16U, 15U, 14U, 13U, 12U, 11U, 10U, 9U, 8U
$200.00-$250.00 entry fee
3 Game guarantee
Exposure Certified event
Location
General Information
This event will feature 8u-17u teams. Please don't hesitate to register for this event. Multiple team discounts are available.
8U to 17U Boys
Only $250 per team!
3 game guarantee! (20 minute running clock)
CIF/NCAA Certified officials!
Birth Certificate/Report Card Checks!
Live scoring/bracket updates!
Downloadable App!
1st & 2nd place team awards!
ALL pool play games at the same location!
If you have any questions please call or email

Lionel - 323-632-8252 lionel@fastbreaksportsla.com
Leland - 310-901-8052 leland@fastbreaksportsla.com
Jr. NBA Member
The Jr. NBA is the official youth basketball participation program of the NBA. The Jr. NBA includes a free, membership-based program for existing youth basketball leagues/organizations. The membership is to help encourage and support youth basketball participation at the grassroots level and improve the overall youth basketball experience for all participants. The Jr. NBA aims to develop a lifelong passion for the game of basketball in boys and girls ages 6-14 by teaching them the fundamentals of the sport while instilling core values including teamwork, respect and sportsmanship.
THE JR. NBA, NBA, AND NBA PROPERTIES DO NOT IN ANY WAY CONTROL OR OPERATE THE ACTIVITIES OF ANY JR. NBA LEAGUE OR TEAM.
---
All event related questions should be directed to Fastbreak Sports at Tournaments@fastbreaksportsla.com or call 424-236-3278.
YOUTH BASKETBALL EVENT, TOURNAMENT AND LEAGUE DIRECTORY
Market your event by submitting it to our directory.
Submit Event