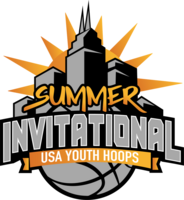 Boys Summer Invitational
June 19-21, 2020 Westfield & Fishers, Indiana
Description
COVID-19 GUIDELINES FOR USA YOUTH HOOPS Indiana Back on Track Stage 4 (June 19-July 3, 2020) 250 people max per facility -The building will only be allowed to have 250 people inside during Phase 4, beginning June 19. We will allow ONE parent/guardian per player to attend. This will keep our per court numbers low and give people plenty of space to spread out with six feet or more space. - Each Facility will have directions for entering and exiting the building and admission instructions as well. -USA Youth Hoops will limit and regulate the flow of entry and fans are to enter for their child's game only, and are asked to leave immediately following to help keep the amount of people below 250 at any given time. - Benches, scorer's tables, and clock will all be sanitized in between each game. -Referees and all USA Youth Hoops staff will be temperature checked upon arrival to the facility. -The basketball being used in the game will be sanitized before the game, at halftime, and postgame. -There will be no post-game handshake line to prevent extra contact. -Facemasks will be strongly recommended for all fans during this timeframe. -USA Youth Hoops staff will be wearing facemasks. -Hand sanitizer will be available for all fans and players. Customer Acknowledgement of Risk By entering the host buildings and/or participating in USA Youth Hoops Events, all parties acknowledge and are aware of the risk(s) to exposure to directly or indirectly arising out of, contributed to, by, or resulting from: An outbreak of any and all communicable disease, including but not limited to, the virus "severe acute respiratory syndrome coronavirus 2 (SARS-CoV-2) which is responsible for the Coronavirus Disease (COVID-19) The COVID-19 situation is fluid and USA Youth Hoops reserves the right to make adjustments to policies and procedures when necessary to help maintain the health and safety of the children, adults and our staff. Join us for our annual Summer Invitational. Expecting over 100 teams for this 2 day event We will follow all of the recommended social distancing guidelines to keep fans, players and coaches SEE OUR UPDATED COVID GUIDELINES IN OUR DOCUMENTS TAB
Tournament
All teams
Boys: 11th, 10th, 9th, 8th, 7th, 6th, 5th, 4th, 3rd
Ability: Elite/Competitive
$295.00 entry fee
Exposure Certified event
Location
Pacer Athletic Center and Best Choice Fieldhouse
Westfield & Fishers

,
IN
,

46038
Directions
General Information
COVID-19 GUIDELINES FOR USA YOUTH HOOPS Indiana Back on Track Stage 4 (June 19-July 3, 2020) 250 people max per facility

-The building will only be allowed to have 250 people inside during Phase 4, beginning June 19. We will allow ONE parent/guardian per player to attend. This will keep our per court numbers low and give people plenty of space to spread out with six feet or more space.

- Each Facility will have directions for entering and exiting the building and admission instructions as well.

-USA Youth Hoops will limit and regulate the flow of entry and fans are to enter for their child's game only, and are asked to leave immediately following to help keep the amount of people below 250 at any given time.

- Benches, scorer's tables, and clock will all be sanitized in between each game.

-Referees and all USA Youth Hoops staff will be temperature checked upon arrival to the facility.

-The basketball being used in the game will be sanitized before the game, at halftime, and postgame.

-There will be no post-game handshake line to prevent extra contact. -Facemasks will be strongly recommended for all fans during this timeframe.

-USA Youth Hoops staff will be wearing facemasks.

-Hand sanitizer will be available for all fans and players.

Customer Acknowledgement of Risk By entering the host buildings and/or participating in USA Youth Hoops Events, all parties acknowledge and are aware of the risk(s) to exposure to directly or indirectly arising out of, contributed to, by, or resulting from: An outbreak of any and all communicable disease, including but not limited to, the virus "severe acute respiratory syndrome coronavirus 2 (SARS-CoV-2) which is responsible for the Coronavirus Disease (COVID-19) The COVID-19 situation is fluid and USA Youth Hoops reserves the right to make adjustments to policies and procedures when necessary to help maintain the health and safety of the children, adults and our staff.
---
All event related questions should be directed to USA Youth Hoops at info@usayouthhoops.com or call 3179416403.
YOUTH BASKETBALL EVENT, TOURNAMENT AND LEAGUE DIRECTORY
Market your event by submitting it to our directory.
Submit Event