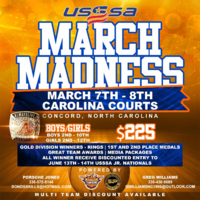 March Madness
March 7-8, 2020 Concords, North Carolina
Description
Tournament
All teams
Boys & Girls
entry fee
Exposure Certified event
Location
Carolina Courts
24 Spring St SW
Concords

,
NC
,

28025
Directions
General Information
Game Rules for Team Participants and Spectators
*** REFUND POLICY ***
THERE ARE NO REFUNDS FOR TEAMS AFFECTED BY ANY FORFEIT OR ONCE SCHEDULE IS RELEASED
**Once Brackets/Schedules have been posted: (PLEASE CHECK BACK DAILY FOR ANY UPDATES); Brackets/Schedules will be posted by Thursday, March 5th, 2020**
IMPORTANT NOTICES:
v COACHES/PLAYERS PLEASE USE TIME AT THE END OF EACH GAME TO CLEAN BENCH AREA
v TWO coach passes per team (no exceptions)
v Home Team is listed first, will wear white or their light-colored uniform
v Visitor Team is listed second, will wear dark-colored uniform
CODE OF CONDUCT: Any Player that is ejected or removed from a game will be suspended for the rest of the Tournament.
Game Clock Playing Times: Please Note: Rules Can Be Over Ruled By Site Director. PLEASE TRAVEL WITH REPORT CARDS!!!! *ALL GRADES ARE BASED ON CURRENT 2018-2019 SCHOOL YEAR AS OF SEPT. 1ST, 2018*
Game Times:
2ND-6TH (2) 12 MINUTES HALVES / 7TH-12TH (2) 14 MINUTES HALVES
All Girls Division & Boys Grades 2nd-6th Grade Division Competitions Shall Use the 28.5 Basketball. Boys Grades 7th-12th Shall Use the 29.5 Basketball.
Overtime will be 1 minute – Max of 1 OT, Then Sudden Death First Team Score.
Running clock time will be used if the score is 20 points; it will return to a stopped clock if the score goes under 15 points. Any Team Who Is Leading Can Not Press During Running Clock.
****No 1-&-1 on the 7th Foul we will Shoot 1-&-1 Free Throws on the 10th Foul *****
Warm Up is 5 minutes / Halftime is 2 minutes (Subject To Change by Site Director). Four Time Outs per Game (2) 30 Second & (2) Fulls
Pool Play ties will be determined by the following:
Head to head competition
20 point max point system.
Differential (Teams In Tie)
Differential All Teams
Total Points Allowed
Coin Toss
**NOTE – Some divisions may not have pool play / bracket play**
Players
Players must compete in their own grade classification, with the exception that players in a lower grade may participate in an older division (in the same organization). A player may only play on a team when they are placed on the roster. At the discretion of the tournament director, some age brackets may be combined based on team registrations or level of play.
Technical Fouls
Each coach or player will be allowed two technical fouls per game. After a second technical foul, players/coach will be ejected from game (cannot be in gym). After first technical foul, the coach must remain seated for the duration of the game. (Sit out Rule will be based on the Officials).
High School Free Throw Rule: Starting above the low block, Playing On-The-"Release"*
All other North Carolina High School Athletic Association Rules will be used.
If a coach /or spectator becomes unruly during the tournament, they will be asked to correct their behavior, and if that does not ease the situation, the coach/or spectator can and will be asked to leave the gym for the duration of the tournament, without refund. If the unruly spectator has a child on the team, the child will be also be ejected from the game. The player can return to the next game.
Our goal is to keep the game schedule running on time. All teams need to be present 30 minutes prior to game time start, *Games can start as early as 15 minutes prior to schedule game time to keep the flow of game on Schedule*. A forfeit is declared at the end of the warm-up period prior to game time.
Protest
All protest of opposing team must be done prior to the start of the scheduled game, the tournament will charge a protest fee of $80 to acquire all documents. No protest of a team will be allowed after a game has been played
*** REFUND POLICY ***
THERE ARE NO REFUNDS FOR TEAMS AFFECTED BY ANY FORFEIT OR ONCE SCHEDULE IS RELEASE
All monies, including discounts, must be PAID BEFORE the Tournament in order to get the Team Discount
**BOND EVENTS is not financially responsible for forfeits, lost or stolen items**
Basketball Size
All Girls - 28.5 basketball
Boys 1st Grade through 6th Grade - 28.5 basketball
Boys 7th Grade and older - 29.5 basketball
Registration
Registration is currently open for the following divisions:
To make a payment please visit the payments section of the event.
---
All event related questions should be directed to Porsche Jones at bondsskills@hotmail.com or call 3365758144.
YOUTH BASKETBALL EVENT, TOURNAMENT AND LEAGUE DIRECTORY
Market your event by submitting it to our directory.
Submit Event