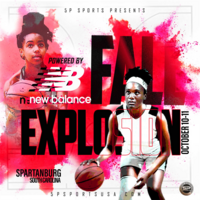 5P Sports: New Balance Fall Explosion
October 10-11, 2020 Spartanburg, South Carolina
Description
We would like to take this opportunity to welcome you to this 5P Sports Event. 5P Sports is changing the game for boys and girls basketball from grade school through high school by allowing teams and players to participate in quality events. Certified Officials, Great Awards, Great Facilities. Professional Staff. and Fair Play. No Games will be running clock!
Tournament
All teams
Boys & Girls: 12th, 11th, 10th, 9th, 8th, 7th, 6th, 5th, 4th, 3rd
$300.00 entry fee
3 Game guarantee
Location
Spatanburg
9768 Warren H Abernathy Hwy
Spartanburg

,
SC
,

29301
Directions
General Information
FOR HOTEL ACCOMODATIONS - PLEASE CLICK HERE.
5P SPORTS USA – EVENT RULES AND REGULATIONS
1. REGISTRATION: All Coaches must pick up coaches passes prior to the 1st game. All assistant coaches will need to check in as well to receive. The home team will provide the bookkeeper for each game. (One band for the head coach, one pass for the assistant coach and one pass for the bookkeeper.)
2. ROSTER: We will issue preprinted score sheets for your convenience. After the roster is turned in. No additions can be made to the roster.
3. GAME BALLS: The HOME TEAM will provide game balls for game play only. You may bring your own balls to warm up with.
4. SCHEDULE - Schedule will be posted on the USSSANC app, please download the app and follow your team. website. Please do not call about the schedule. We will email you once it is completed.
5. Championship Brackets: TBD
AWARDS: Trophies will be issued for Gold and Silver Bracket Champions and Runners up
6. Coach's Attire: Coaches must be either a coach's shirt with a collar or team t-shirt with team name on it. Shorts are acceptable. NO FLIP-FLOPS.
7. GAME TIME is GAME TIME ... Please arrive 15 minutes prior to the start of your game.
Tournament Director:
Greg Williams 336.430.9689
Email: greg.williams@5Psportsusa.com
ROSTERS: Must be added to Exposure.
ADMISSION:
Saturday - $20.00
Sunday - $20.00
Children Under 6 Free
Coaches will be given Three wrist bands at registration. Coaches names must be on the approved roster.
RULES
7th – HS - 16-minute halves - Clock stops, Clock stops on the whistle, 3 timeouts - 3 full (45 Sec)

1st -6th - 14-minute halves - Clock stops on the whistle, 3 timeouts - 3 full (45Sec)
NFHS Basketball rules are in affect
GENERAL RULES

All Divisions
• Teams must provide their own warm up balls
• Home team wears light colored uniforms
• Visitor team wears dark colored uniforms
• Home team sits to the left of scorer's table
• Visitor teams sits to the right of scorer's table
• Each team will warm up on the end opposite its bench
• Twenty (20) point half mercy rule
• Two man referee crews
• Players foul out of the game on their 5th foul
• Clock stops on dead balls.
TIEBREAKER RULE
All Divisions 1) If two teams are tied, the tiebreaker is decided by head-to- head competition. 2) If more than two teams are tied, the tiebreaker is decided by the point differentials of only the teams involved (15-point cap per game). The highest number receives the higher seed and the second highest will receive the next lower seed, etc. 3) If more than two are tied after using the above tiebreaker formula, the point differential of the teams not involved in the tie are added and recalculated (15 point cap per game).
Registration
Registration is currently open for the following divisions:
To make a payment please visit the payments section of the event.
---
All event related questions should be directed to Greg Williams at greg.williams@5psportsusa.com or call 336-430-9689.
YOUTH BASKETBALL EVENT, TOURNAMENT AND LEAGUE DIRECTORY
Market your event by submitting it to our directory.
Submit Event