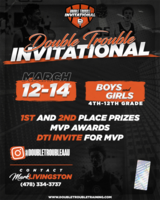 Description
1st Place Awards Individual Awards Player Exposure Media MVP | Invite to DT Academy
Tournament
All teams
Boys: 12th, 11th, 10th, 9th, 8th, 7th, 6th, 5th, 4th, 3rd
Girls: 7th
Ability: Elite
$275.00 entry fee
3 game guarantee
Location
Mount Pisgah Christian School
9875 Nesbit Ferry Rd
Johns Creek

,
GA
,

30022
Directions
General Information
Gate Entry Fees:
$12 (13yrs & UP)
$10 (7yrs-12yrs)
Free 6yrs & Under


Our COVID-19 Measures are as follows:

1. Everyone's temperature will be checked upon entering the gym
2. All staff & patrons are required to wear a mask
3. Handsanitizer, wipes & spray will be available
4. General cleanup of gym and bathroom

CHECK-IN


2 COACHES BANDS WILL BE PROVIDED DURING THE CHECK IN PROCESS. THESE BANDS MUST BE WORN THROUGHOUT THE TOURNAMENT. IF BANDS ARE MISPLACED COACHES WILL HAVE TO PAY ENTRY FEE. ALL teams must check in before their first game.

Scoresheets will be provided

TOP TEAM ON THE SCHEDULE IS HOME. Home team is responsible for the game ball.

Please have team books available at all times throughout the tournament. Books should have proof of age ie, include birth certificate or state ID, and report card, or National Sports ID.

Each team will receive free entry for the two coaches and players listed on the roster only. Players must have on full uniform to receive free entry to tournament.

BENCH PERSONNEL/DRESS CODE

A team may have on its bench only the eligible persons listed on its official roster, including (e) non-players (coaches, scorekeepers, etc.)

Game Rules:
-Each game will be (2) halves. (12-min: Elementary; 14-min: Middle School; 16-min: High School)
-Overtime(OT period): 3-min; Second OT: Sudden Death
-Five (5) Personal Fouls
-Bonus on (7) team foul; Double bonus on (10) team foul
-Mercy rule: 25+ POINTS results in a running clock. (Team must get under (15) points for clock to stop)
-Timeouts (4): 2 (30-sec) 2 (FULL); 1 additional time-out for OT period.
Registration
Registration is currently open for the following divisions:
To make a payment please visit the payments section of the event.
Jr. NBA Member
The Jr. NBA is the official youth basketball participation program of the NBA. The Jr. NBA includes a free, membership-based program for existing youth basketball leagues/organizations. The membership is to help encourage and support youth basketball participation at the grassroots level and improve the overall youth basketball experience for all participants. The Jr. NBA aims to develop a lifelong passion for the game of basketball in boys and girls ages 6-14 by teaching them the fundamentals of the sport while instilling core values including teamwork, respect and sportsmanship.
THE JR. NBA, NBA, AND NBA PROPERTIES DO NOT IN ANY WAY CONTROL OR OPERATE THE ACTIVITIES OF ANY JR. NBA LEAGUE OR TEAM.
---
All event related questions should be directed to Mark Livingston at coachmarkdt@gmail.com or call 478-334-3737.