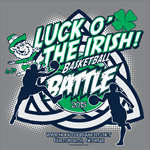 Messages
Thank you!
Coaches thank you for a great tournament! Wow it felt good to fell normal! Hope you kids improved and had great competition! Can't wait to see you again April 2/3!
3/14/2021 6:50 PM
Bracket UPDATES!!
COACHES Whew! Please check your bracket times! Some have had ot change so Coaches Coaching Multiple teams can be there! Also remember to Spring Forward an Hour on your clocks!
May the Luck O'the Irish be with you!
3/13/2021 11:03 PM
9Aca gym
Good morning! If you are playing at the ninth grade Academy Gym please park in the Murray football parking lot and enter on the side of the gym. Also if you are playing at North Murray aux gym please Bring a lawn chair to sit in.
3/13/2021 7:42 AM
Gate Fee for Spectators
Let your parents know:

Admission each day will be:

$8(Saturday) for Adults

Children 12under will be $2.
We are not setup to accept electronic payment on cash.
3/11/2021 8:25 PM
Luck 'O the Irish Basketball Battle 2021 offers the following divisions. Any documents can be viewed, printed or downloaded.

---
All event related questions should be directed to Chris Tipton at coachtipton@northgasting.com or call 7064632148.