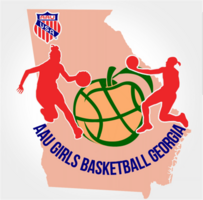 Ga Girls AAU Basketball
presents
2021 GA State District Championships - High School, 4th, 5th, 6th, 7th & 8th Grade
Messages
Championship Sunday
Coaches, the gym doors at KSU for Championship Sunday will not open until 7:30am. Games will start promptly at 8:00am.
5/22/2021 9:24 PM
Covid Protocols
Coaches, in effort to maintain some social distancing inside facilites, please make sure you clear out all of your players and parents immediately after your game is finished. There will be limited seating in both facilites and please advise non-vaccinated parents to wear masks. Thank you in advance for your consideration.
5/21/2021 12:27 PM
Schedule update & Checkin
Coaches, we had to make some slight changes to schedule. Please recheck your game times.

Team Check in
Team check in will be AFTER your first game. Coach only with team paperwork to verify rosters.
5/20/2021 8:49 PM
Gate Fee Payment Options
Gate Fees
$10 adults and $5 children

Dominion Christian Payment Options
Cash, Credit Card and CashApp

Kennesaw State Payment Options
Cash and Credit Card

No outside food our coolers are allowed in facilities.
5/20/2021 11:15 AM
KSU Gym Directions
Coaches, please use the following link to find gym on KSU Marietta campus :

https://goo.gl/maps/dYtzHAHQpeUUYgPa8
5/20/2021 11:06 AM
Tournament Rules
Coaches, tournament rules are attached to this message.
Schedule is Posted
Everyone, the game schedule is posted. Due to limited gym space we were forced to have Friday night games. I do not have any room to make changes so please do what you can to make this work. Schedule link : https://basketball.exposureevents.com/165523/2021-ga-state-district-championships-high-school-4th-5th-6th-7th-and-8th-grade/schedule
5/18/2021 11:03 PM
Girls AAU State Update
Everyone, Cobb conty schools pulled our gym reservations at Kennesaw Mountain High School. Games will now be played at Kennesaw State University and Dominion Christian:

Dominion Christian School
Burnt Hickory Rd NW
Marietta, GA 30064

Working on Schedule now will have something out later tonight.
5/18/2021 1:47 PM
Description
$225 per team. $200 per team for 3 or more entries
Tournament
All teams
Girls: 8th, 7th, 6th, 5th
Ability: Elite/Competitive/Developmental
$200.00-$225.00 entry fee
3 game guarantee
Location
General Information
Teams interested in attending an AAU National Championship must first qualify via a District Championship or Super Regional (for certain age groups). The number of teams that qualify for National Tournaments through District Championships is based on the number of teams entered into the qualifying event. In District Championships, the total number of teams participating in Division I & Division II are totaled to determine the number of teams qualifying for the National Championship. For more information, please reference the AAU Girls' Basketball Handbook
AAU Licensed
AAU Licensed #: 1KGABW4304
This event is licensed by the Amateur Athletic Union of the U. S., Inc.
All participants must have a current AAU membership.
AAU membership may not be included as part of the entry fee to the event.
AAU membership must be obtained before the competition begins except where the event operator has a laptop available with an internet connect. Participants are encouraged to visit the AAU web site to obtain their membership.
---
All event related questions should be directed to Kirk Inman at georgiagirlsaaubball@gmail.com or call 470-578-6653.