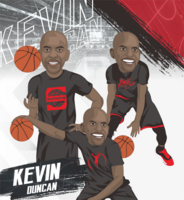 Messages
LAST LIL BALLER DAY
Since the first Sunday got cancelled due to Air ev being out of the country, there is one day left for Lil Ballers. Today is the last day for the wnter session. Hopeflly we will see you there today 1:00 - 2:00.
2/27/2022 11:29 AM
Lil ballers Cancelled
Lil Ballers is cancelled today and will be extended one week on the back end. Air Kev was in Egypt for 10 days training some overseas players and his flight got cancelled home. He will not be getting back to the states until Tuesday. We will start the next session Sunday January 16th 1:00. Please bring a ball with your child's name on it and report to the back top court around 12:45
1/9/2022 10:45 AM
Lil Ballers Cancelled
lol Ballerz is cancelled tomorrow due to the fact Air Kev's flight from Egypt got cancelled. He was supposed to be back today but due to his flight being cancelled he won't be back until Tuesday. We will add in an additional Sunday on the back end


1/8/2022 7:19 PM
LIL BALLERS
A reminder Lil Ballers will not start back up until Sunday January 9th. Air Kev is in Egypt training some overseas players this week. The program will start back up at 1:00. We will send out more info regarding this next week
1/1/2022 9:09 PM
TODAY LIL BALLERS
Reminder Air Kev is doing double session for Lil Ballers from 12 - 2 today since he couldn't make it last week. Bring a ball if you can with their name on it.
11/21/2021 10:21 AM
NO WORKOUT SUNDAY NOV 14
There will be no Lil Ballers workout tomorrow as Air Kev had to go out of town this weekend. He will do a double workout next Sunday from 12 - 2 to make up for it.

Also on December 26 he is going overseas to tran and athlete for the week. We will instead extend the season one week through Janary 2nd. I will send out a reminder as we get closer.

11/13/2021 4:57 PM
LIL BALLERS
A reminder Sunday is the first day of the Li Ballers program. It goes from 1:00 - 2:00 on the back top court at Landmark. If you have a ball you can bring with your son's name on it please do. If not we will have extra balls there. If you have any questions ask Cathi at check in when you get there or ask Coach Air Kev.
11/6/2021 11:33 PM
The following reports can be viewed, printed or downloaded.
More detailed reports can be found on the divisions page.
Reports
---
All event related questions should be directed to Tom Sunderman at Tom_Sunderman@yahoo.com or call 513-235-9007.