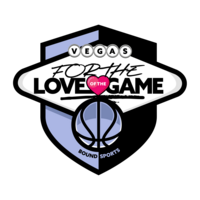 BOUND
presents
(Free Team Entry) For The Love of The Game Schedule
Messages
Saturday
Coaches and directors:

Please make sure to take check your schedules for tomorrow for any potential updates.

Thank you,

Quincy
6/17/2022 11:31 PM
Schedule
Coaches and directors:

Regarding the schedule, we appreciate your patience. The schudle is currently undergoing some minor adjustments. It will be published this afternoon, Pacific Standard Time (PST).

Thank you, and I wish everyone good luck in the event.
6/15/2022 11:18 AM
Schedule is LIVE!
Coaches and Directors:

We truly appreciate your participation in this event, and are excited to see each and every team compete throughout the weekend.

For The Love of The Game will be held at Las Vegas Basketball Center and surrounding facilities on June 17-19. Please review the following information as it contains important details about the upcoming event.

COACHES CHECK-IN

1) Coaches check-in will begin Friday, June 17th at 4:15pm.

2) Please check-in at least 30 minutes prior to your first game.

3) All coaches are required to check-in prior to your first game.

4) Teams will be allowed to have no more than 2 coaches per team.

5) Coaches will receive a wristband to wear throughout the duration of the event.

6) Please place it on your bag or wrist.



TOURNAMENT SCHEDULE

The For The Love of The Game tournament schedule LIVE! The schedule will not be posted on site; please make sure to share the link with parents, family and friends. All teams must be prepared to play Friday 5pm-10pm, Saturday 8am-10pm and Sunday 8am-7pm.


Please pay attention to all tournament schedule updates including: time changes, bracket play games and potential forfeits. Lastly, we always do our best to accommodate schedule requests but they are not guaranteed. Once the schedule is posted, please make sure to email any questions here.


LIVE-STREAM

All games at Las Vegas Basketball Center will be live-streamed through our website: https://www.officialbound.com/live-stream/

Games at all other venues will be live-streamed by BallerTV.

Lastly, please make sure to submit your team rosters. Only rostered coaches will recieve a wristband. Two coaches wristbands per team, no expections. Please provide your own game balls. Trainers will be on site to provide pre and post game needs.

Let us know if you have any questions.

Thank you,

BOUND SPORTS
6/14/2022 7:51 PM
Click on a division below or search for a team to view the schedule.
---
All event related questions should be directed to Quincy Quintero at info@officialbound.com or call 661-244-7818.