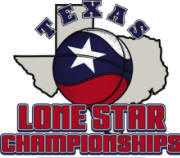 Messages
Schedule Update
Coaches,

Schedules have been recently updated. Please refer to the app for latest update. In addition, for teams participating for the first time in the Lone Star Championships, Mission Concepion charges a $5/day per car parking fee. We have no control over this.

Safe travels to San Antonio
Lone Star Registration
Registration is ongoing for the 2022 Lone Star National Championships to take place on August 5-7 in San Antonio, TX. Some of the biggest 1st place team trophies in the Texas. Click on the link below to register.

Registration Link
7/6/2022 5:15 PM
Lone Star Championships
Registration is ongoing for the 2022 Lone Star Basketball Championships to take place in San Antonio, TX on August 5-7.

Register online on the app or at lonestarnationalchampionships.com
7/6/2022 5:12 PM
The following teams are officially participating in the 2022 Texas Lone Star Championships Basketball Tournament - San Antonio.
Please note some teams may not be present yet. Click on the team to view more details.
---
All event related questions should be directed to Calvin Ward at lonestarchampionships@yahoo.com or call 979-417-3721.