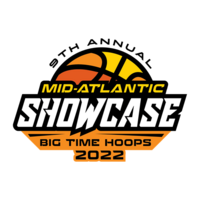 Big Time Hoops
presents
BIG TIME HOOPS - 9th ANNUAL MID-ATLANTIC SHOWCASE Blaze
Messages
Behavior at the Event
COACHES! YOU ARE RESPONSIBLE FOR THE BEHAVIOR OF YOUR PLAYERS AND PARENTS. THEY REPRESENT YOUR PROGRAM. PLEASE ENSURE PARENTS DO NOT TOUCH A STEP ON THE COURT, NO AGGRESSIVE BEHAVIOR, NO PROFANITY, and NO ABUSIVE LANGUAGE WITHIN THE VENUE. FAILING TO COMPLY MAY RESULT IN THE REMOVAL OF YOUR PROGRAM FROM THE EVENT. YES, THIS MEANS YOU!! View all rules at www.bigtimehoops.net/rules

Spectator Entry Pricing (DO NOT REMOVE BANDS or REPAY) Online Purchase Only!
Weekend General Admission - $25 (ages 13 and up)
Weekend Youth Admission - $20 (ages 6 - 12)
Daily Admission - $15 (ages 6 and up)

Respect the Game
1. No aggressive behavior or abusive language within the facility; failure to comply will result in your prompt removal...DO NOT COME, IF YOU ARE UNABLE TO CONTROL YOURSELF
2. No Fighting! Failure to comply will result in player removal and possible team removal. Adult fighting will result in Big Time Hoops seeking a lawful resolution. If, you are unable to control yourself ---- STAY HOME

Game Rules
· TEAMS MUST REMOVE ALL DEBRIS AFTER EACH GAME

· Clock Stops on Free-Throws, Fouls or Stoppage of play exceeding 5 seconds (Clock will stop on Whistle, the final minute of each half)

· 15 mins per half (Ages 15U – 18U / 9th – 12th Grade)

· 14 mins per half (Ages 13U – 14U / 7th & 8th Grade)

· 13 mins per half (Ages 9U – 12U / 3rd - 6th Grade)

· 2 Min halftime

· One full and one 30 sec time out per half

· Overtime consist of 2 min, each team having one full timeout; sudden death in 3rd Overtime (first team to score)

· Free throws are "ON THE RELEASE"

· Each player has 5 fouls before disqualification

· DOUBLE BONUS on 10th foul (no one in one on 7th foul)

· Only 1 coach can stand during game

· *IF NEEDED* Home team will provide official score keeper with visiting team keeping clock. TEAM DEPICTED ON LEFT OR TOP OF SCHEDULE IS HOME.

· High School Federation Rules apply for all other scenarios

Slaughter Rule: Clock runs when opposing team is trailing by 20 points. Clock will stop on whistle, when deficit reaches 15 or below.

Tickets / Wristbands
Spectators and COACHES must wear wristband on person; they are not a family bands but an individual band. Failure to have on person will result in repayment.

Coaches must have their wristband on person the entire weekend. Lead by example and keep your band on your wrist.

Team Rosters

Those that failed to submit a team roster at the HS level will only hurt their players. We have college coaches in attendance and watching online, get the roster in by 8pm tonight. An email has been sent to those teams out of compliance.
6/10/2022 3:58 PM
---
All event related questions should be directed to Jay Lambert at jay@bigtimehoops.net or call 832.852.3358.