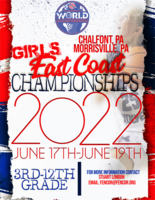 Fencor
presents
AAU East Coast Girls Championships Schedule
Morrisville, Pennsylvania
Messages
Final schedule up
The final schedule is now posted. No more changes can be made. The referees are assigned their slots and cannot be moved at this point.
6/17/2022 12:12 AM
Double check schedule
Made some slight corrections to fix gym sites after we said Final Schedule, so please double check your schedule.
Remember, check app for playoff games on Sunday, some teams may have a regularly scheduled game plus a playoff.
6/17/2022 4:06 PM
Schedule updated
The schedule for the weekend tournament has been updated. We worked on it all day with the national AAU office trying to do what we could.
6/16/2022 6:38 PM
Click on a division below or search for a team to view the schedule.
---
All event related questions should be directed to Stuart London at fencor@fencor.org or call 215-570-3269.