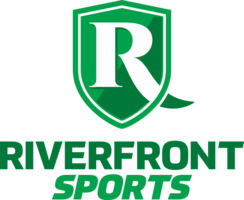 Riverfront Sports
presents
2021 Riverfront Sports Winter Basketball League Schedule
November 15 - January 31, 2022
Messages
Schedule Update
We have made some schedule changes for the playoffs. Today's (Wednesday) schedule HAS NOT changed. However, please check Thursday, next Monday, next Wednesday and Thursday for your teams games or potential games. Brackets and schedules have been updated on the Riverfront app. Any questions, email Chris and Kevin hoops@riverfrontsports.com

Thanks for your patience and cooperation.
1/19/2022 11:00 AM
Monday Games Postponed
Due to the inclement weather, all Monday playoff games have been moved to Wednesday. This will push the rest of the schedule back as well. Please check your schedule to see new game dates and time. We reiterate that these game need to be played as scheduled due to bracket play. We built in a snow day which we are already using but now the window to get these games in has tightented. Questions please email Kevin and Chris at hoops@riverfrontsports.com
1/17/2022 1:16 PM
Playoff Bracket/Schedule
Greetings,
Well, we made it through the regular season and it is now time for single-elimination playoffs. The schedule is posted and official as of 10am. Our playoff schedule was put together with consideration to previous requests. But please understand this is bracket play now and the schedule needs to stay as posted in order to finish the playoffs on schedule. We are asking for everyone to play when your games are scheduled. If there is a COVID-19 situation, Riverfront management will review it on a case-by-case basis. If a team is going to be out for an extended period of time, a forfeit might have to be issued. Good luck and thanks for participating in our Winter League! Questions email hoops@riverfrontsports.com which will go to Kevin and Chris.
1/14/2022 10:05 AM
Final Week - PLEASE READ
Greetings,

Due to COVID-19 affecting everyone's schedule, we have finalized the last week of the regular season with games on 1/10, 1/12 and 1/13. This is the final schedule and if games are canceled, they will not be rescheduled. Please check your schedue because there were some time changes and some opponent changes we had to make because of team availability. We will get a playoff schedule out ASAP once regular season is complete.

Thanks for your cooperation and please email us with any questions. hoops@riverfrontsports.com
1/7/2022 9:18 AM
January Schedule
Greetings Coach,
We hope you are enjoying the Riverfront Winter Basketball League. All of the remaining regular season games are currently scheduled for January. There were a couple changes recently made to the schedule so please double-check your remaining games. Playoffs will begin the week of January 17th. Please contact us at hoops@riverfrontsports.com with any questions or issues. Happy Holidays!
12/23/2021 10:27 AM
Christmas Tournament
Good morning!

We just wanted to write and remind you all of the Riverfront Sports Holiday Tournament, with the first round beginning December 27th. I've attached a link below for more information. Registration deadline is December 20th.

If you have any questions, please let us know. Thank you and we look forward to seeing you over the Holiday's!

https://riverfrontsports.com/basketball-tournaments/basketball-holiday-tournament/
12/9/2021 10:50 AM
Food Drive=free admission
FOR THIS WEEK ONLY: Bring a canned/boxed good or non-perishable item to donate to our food drive and enter into the Winter Team league games for FREE! (instead of paying $3 per person)
1 donated item= 1 free entry per person

Coaches: Please let your parents know.
11/15/2021 3:10 PM
Game Schedule
The game schedule for the first 2 weeks is now posted on the Exposure website. 7/8 Boys are not on the schedule for the first two weeks. The remainder of the schedule will be posted in the near future. We tried to honor all requests. If you made specific requests, this could affect who you play and when you play. Please honor this schedule unless there is an emergency. All schedules, results and standings are also on the Riverfront Sports app which you can download from the Apple Store or Google Play Store. Gym opens 15 minutes before first scheduled game. Please bring basketballs for warmups. We ask for one volunteer from each team to do scoreboard or scorebook. Here are the rules.
Any questions, e-mail hoops@riverfrontsports.com.
11/11/2021 8:22 AM
Click on a division below or search for a team to view the schedule.
---
All event related questions should be directed to Kevin Clark at kclark@riverfrontsports.com or call 570-347-0797.