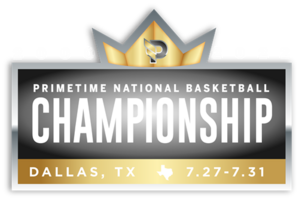 Messages
NBC Check-In & NBC Live!
NBC Check-In and NBC Live are tomorrow! Please make sure your rosters and waivers are submitted, and if the kids would like a shot at some awesome prizes, get them registered for our competitions before 5pm today! LET'S HOOP!
7/26/2022 11:02 AM
REGISTRATION CLOSING SOON
Nationals Registration will soon be closed! You have until 11:59pm TONIGHT to secure your team's spot in the largest Nationals event of the year. Act now to provide your team the opportunity to achieve greatness!
7/8/2022 7:38 PM
Click on a division below or search for a team to view the schedule.
---
All event related questions should be directed to Kayla Pyburn at basketball@playprimetime.com or call 972-355-3788 X 1.