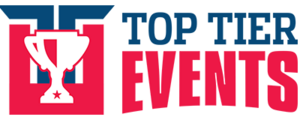 Top Tier Events
presents
Scranton Spring Tipoff presented by Top Tier Events Documents
Messages
Schedule Revamped
Due to some confilcts for certain teams, we had to change the original schedule. CHECK YOUR SCHEDULE AS IT MIGHT HAVE CHANGED FROM THE EARLIER ONE. Thank you for your patience with this process.

Also, admission for the tournament is $17 for a weekend pass and $10 for a daily. Cash only at the door so please let your parents know.

Here is the schedule link.

https://basketball.exposureevents.com/178239/scranton-spring-tipoff-presented-by-top-tier-events/schedule

Please download the Top Tier Events app for easy access to the schedule and results.

Spring Tipoff Schedule
Hello and thank you for participating in the Scranton Spring Tipoff presented by Top Tier Events! At this point, the schedule has been completed. As always, we did our best to accommodate everyone's request and may not be able to make changes moving forward. You can view the schedule at the Top Tier Events and Exposure websites. PLEASE DOUBLE CHECK YOUR SCHEDULES! Also, you can download the Top Tier Events app on your smart phone (free download) which gives you access to the whole tournament schedule.

We suggest you check your schedules 24 hours before your game time just to make sure your team schedules haven't been adjusted. Anything within 24 hours of your scheduled game, directors from each organization will be notified of any last-minute change.

Please arrive at least 15 minutes before your scheduled game time as games will start early if we are ahead of schedule. Please bring your own basketballs for warmups as the facility will not provide them.

NOTE: Top Tier Events managment ask that each coach sign in before their first tournament game. We only allow two coaches per team that will be granted admission and will receive a coach's wristband. Any other additional coaches (2nd assistants), scorekeepers, statisticians, videographers, photographers, etc., will have to pay full admission to enter the tournament. We also only permit TWO coaches on the bench per game.

Please visit our website for tournament rules! They can be veiwed at https://toptiereventssports.com/

How to watch:
Watch every game played at Riverfront Sports with LiveBarn.com (Not available at Lackawanna College or Scranton High School)

Use promo code tier-2022

LiveBarn allows you to…

-Watch every game LIVE or On-Demand from your mobile device, tablet, or computer.

-On-Demand feature allows you to watch it on your time. Immediately after, tomorrow, later in the week up to 30 days.

-You can now download 30-second highlight clips directly to your phone or device.

-Download full games to re-watch as much as you want, use as a coaching tool and edit for highlight videos.

Thank you and we looking forward to seeing you all this weekend!

Sincerely,

Top Tier Events
3/23/2022 11:59 PM
The following reports can be viewed, printed or downloaded.
More detailed reports can be found on the divisions page.
Reports
---
All event related questions should be directed to Kevin Clark at kclark@riverfrontsports.com or call 570-347-0797.