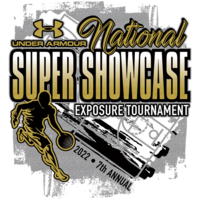 Messages
Final Schedule
Coaches,
The final schedule and bracket schedule have been posted.
Please go to the site, review Schedule
and email Tom_Sunderman@yahoo.com to confirm you have the most updated schedule. Include your roster if you haven't already submitted it.
Rules are attached.
Thank you,
Tom
TENTATIVE SCHEDULE
Coaches,
We have posted the tentative schedule for pool play; here is the link https://basketball.exposureevents.com/180152/under-armour-national-super-showcase/schedule . It is also posted on Exposure and our webste www.swohiosports.com. Games will be played at Landmark and Kingdom Sports Centers.
If there are any scheduling issues please email them to tom_sunderman@yahoo.com and I wikll see what we can do. A final schedule along wth brackets will be posted Thursday around 6:00. We will send another email out then.
Admission for the weekend will be $10 for adults and $5 for students. Home team will have the official book and the visiting team will provide the clock keeper. We will play 20 minute running halves with the last 2 minutes of the game stop and go. I will send out the official rules out Thursday but it willl be National Federation outside this.
With everything that has transpired this week I am grateful to everyone for their patience and kind words. Please run everything through me for now.

Tom Sunderman
(513) 235-9007
7/6/2022 3:09 PM
TOURNEY SCHEDULE
We will start schedules around 10 am Wednesday and try to post them by 1:00. We will also send an email out about the schedules. Games will be played at Landmark and Kingdom Sports Complexes. Thanks

Tom Sunderman (513) 235-9007
Mike Buckle (513) 253-6910


7/6/2022 12:18 AM
UA SUMMER SHOWCASE
Coaches,

I wanted to give everyone an update as some of you I have already talked to. My partner, James Deaton Sr. passed away suddenly on Saturday. Like anything none of us were prepared for this. We have been working the last 72 hours on several, several things. I ask you to keep James Jr and his family in your prayers, and also direct all texts and calls to me for now.

As for the tourney this weekend we are still planning to move forward with this. A situation we have run into was James handled all the gym contracts for the tourneys. We thought we had one with Elite Basketball in Batava, but James never got to sign it and since they have filled their gym. This will change our sites for this weekend.

I have been working on fnalizing the gyms for the weekend and then will handle scheduling the tourney. Landmark will be one of our main stes (1600 Glendale Milford Rd) and then we will secure a second site later today (either Friars or Kingdom). Once I know for sre will email everyone especially for teams needing to book rooms.

If you have not paid yet I just need to know if your team is planning on playing this weekend or if your team is out. If you are receiving this email its because you registered for the event. Also if you have any schedule requests I need those today. Yo can email all this to tom_sunderman@yahoo.com. If you have not paid you can go to www.swohiosports.com and pay through Paypal or you can Venmo to @southwesternohiobasketball or Cash App to $swohiobasketball.

Sorry for the long email but as I said we have been dealing with a lot this weekend but as always, James and I always like to put together good solid events. Thanks everyone for supportng us over the years. We will continue on and we will carry James' love for youth basketball on.

Tom Sunderman
(513) 235-9007

.
7/5/2022 11:54 AM
Description
Boys & Girls - Grades 2-12, 4-Game Guarantee, Pool Play into Brackets, Deadline is July 4, 2022
Tournament
All teams
Boys & Girls: 11th-2nd
Ability: Competitive/Developmental
$395.00-$445.00 entry fee
4 game guarantee
Location
Landmark Athletic Center
1600 Glendale Milford Road
@ Aerohub Blvd
Cincinnati

,
OH
,

45215
Directions
General Information

All teams make it into bracket play.
Referee fees are included.
Registration is not complete until full payment is received.
---
All event related questions should be directed to Tom Sunderman at Tom_Sunderman@yahoo.com or call 513-235-9007.