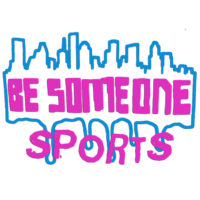 Messages
Brackets Begin!!!!
Hello parents! just wanted to say thank you for the amazing season. I hope everyone has enjoyed it. We are looking forward to starting bracket play next week. You can find all the bracket on the app. Just select your division then brackets.

We also have Basketball training starting next week and will be every Monday and Wednesday. The cost is $99 per month and that will give you up to (8) 1.5 hr sessions per month.
Beginners class will be 6-730pm
Advanced Class will be 730-9pm

We will be focusing on skills during these trainings a lot of dribbling, shooting, and defensive exercises. This will be a great way to sharpen those skills and get ready for upcoming try-outs at schools and leagues.

Registration for the training can be found on the website. Besomeonesports.com
BasketballTryout reminder
Monday 16th
Living Stones Gym 1
6pm K-1st boys
730pm 6th - 7th boys

Living Stones Gym 2
6pm K-2nd girls
730pm 4th - 5th boys

Tuesday 17th
Living Stones Gym 1
6pm 2nd -3rd boys
730pm 4th - 5th girls

Living Stones Gym 2
6pm 3rd girls
730pm 6th - 7th girls
5/16/2022 3:14 PM
Description
EVENT DETAILS Open to Boys and Girls. Recreation Rules Division Top Notch Venues / League All individuals Boys & Girls Ability: Competitive $230.00 entry fee
League
All teams
Boys & Girls: 8th, 7th, 6th, 5th, 4th, 3rd, 2nd, 1st
Ability: Elite/Competitive/Developmental
$230.00 entry fee
9 game guarantee
Exposure Certified
Location
Living Stones
1407 Victory Ln
Alvin

,
TX
,

77511
Directions
General Information
Be Someone Sports Summer Basketball League

June 6th 2022 - August 7th 2022

Be Someone Sports is proud to provide a league designed for kids with ALL levels of basketball experience to participate in a fun and competitive basketball League. This is a volunteer coach draft league.

League Information:
Try outs will be held the week of may 15th
All registered participants will be placed on a team.
Practices and games will start after the Draft
There will be a max of 3 events a week. It can be practices and/or games.
Each team will have 9 games with a double elimination tournament
Final event of the season will be the ALL- STAR GAME Aug 13th, 2022

Boys Divisions will be
1st grade boys (kinder kids welcome)
2nd grade boys
3rd grade boys
4th grade boys
5th grade boys
6th grade boys
7th grade boys
8th grade boys

Girls Divisions will be
1st grade girls (kinder kids welcome)
2nd grade girls
3rd grade girls
4th grade girls
5th grade girls
6th grade girls
7th grade girls
8th grade girls

Basketball Size:
27.5 -
1st grade boys/girls
2nd grade boys girls

28.5 -
3rd grade boys/girls
4th grade boys/girls
5th grade boys/girls
6th grade boys/girls
7th grade girls
8th grade girls

29.5 -
7th grade boys
8th grade boys

**** For more information e-mail
Steve.passons@besomeonesports.com

$230 a kid Must Register on line

Call Steve Passons 832.421.2895
---
All event related questions should be directed to Steve Passons at steve.passons@besomeonesports.com or call 832-421-2895.