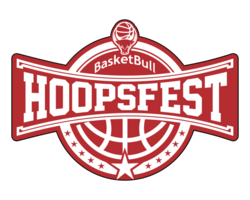 Basketbull
presents
BasketBull HoopsFest 2022 Schedule
Springfield, Massachusetts
Messages
Game Rules/Uniforms
Coach,

Quick email to update you on the game rules for this coming week.

Per NEPSAC rules, the uniform colors should be:

Home Team (2nd listed on email I sent) - DARK uniforms
Away Team (1st team listed on email sent) - LIGHT uniforms

Please have 2 sets available though for your games.

We will follow Hybrid rules for the tournament.

Game length - if NEPSAC team in the event, we will play whatever game length of the HIGHER NEPSAC team level. For instance, if a AAA team is playing a AA team, we will follow the AAA game length rules.

For games that do NOT involve NEPSAC, the tournament director and coaches will agree upon game length.

Please see additional rules, attached to this email/message.

Any questions, please let us know. Thank you.
Click on a division below or search for a team or athlete to view the schedule.
---
All event related questions should be directed to Colin Tabb at CTabb@Basketbull.org or call 413-382-0272.