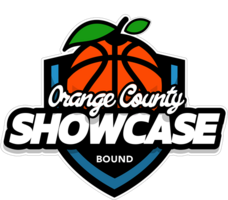 BOUND
presents
Orange County Bound Showcase Schedule
San Juan Capistrano, California
Messages
OC Showcase | Information
Coaches and Directors:

Welcome to the NCAA Certified Orange County Bound Showcase, presented by Bound Sports!

We appreciate your participation in this event. Please make sure to review all the information outlined in this document.

The Orange County Bound Showcase will be held April 22-24 at the JSerra Catholic High School in San Juan Capistrano, CA. This showcase is an NCAA Division I, Division II, Division III, and NAIA viewing event.

Team Check-In
All players and coaches are required to check-in 1 hour prior to your first game to complete the Team Check-in process. Certified coaches and players will need to obtain a wristband before entering the facility.

All coaches must have a USAB Gold License Number in order to sit on the bench and complete the check-in process, also please bring a form of identification. Only coaches on the BBCS roster will be permitted to sit on the bench. There will not be any exceptions to this rule. All non-rostered and/or non-certified coaches will be required to pay daily admission, and will not be permitted to sit on the team bench.

ROSTERS
All teams must submit their Team Rosters through BBCS to be included in the Orange County Bound Showcase Packet. If you have not done so already, submit them immediately! The deadline to submit your rosters through the BBCS will be April 19th.

If your team roster is not submitted by the deadline, your team will not be included in the College Packet.

Click Here: NCAA Team Roster Form

TOURNAMENT SCHEDULE
The Orange County Bound Showcase tournament schedule will be posted here on April 20th. Games will begin April 22 at 4pm and conclude April 24 at approximately 9pm. The schedule will not be posted onsite, please make sure to share the link with parents, family and friends. Please pay attention to all tournament schedule updates including; time, court and matchup changes.

MISCELLANEOUS
Each team is responsible for providing its own basketballs, an Athletic Trainer will be on site for all pre and post game necessities. The home team will be listed on the bottom. Concessions will be available for snacks, water, etc.
4/17/2022 8:09 AM
Click on a division below or search for a team to view the schedule.
---
All event related questions should be directed to Quincy Quintero at info@officialbound.com or call 661-244-7818.