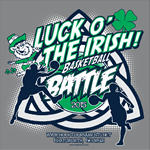 Messages
Snow Update
Coaches, I have adjusted schedule. Roads are fine right now. Start time is at 11:30. I will reevaluate at 9am. COACHES Call me with updates in your area. 7064632148
3/12/2022 6:24 AM
55min Delay in the AM
All Games pushed back 55min. So 8:45am games start at 9:40a etc. Scedule is updated.
3/11/2022 11:53 PM
Possible Snow
Coaches/Parents: At 6:30am I will send an update out and evaluate the weather. Pray for RAIN!!!
3/11/2022 9:24 PM
Description
Gate Fee $8 Daily, $2 for 12& under
Tournament
Travel teams
Boys & Girls: 11th, 10th, 9th, 8th, 7th, 6th, 5th, 4th, 3rd, 2nd
Ability: Elite/Competitive/Developmental
$175.00 entry fee
3 game guarantee
Exposure Certified
Location
Murray Recreation Dept
651 Hyden-Tyler Rd
Chatsworth

,
GA
,

30705
Directions
General Information
Covid Procedures will be followed! Masks, Each game shuttle in and out.
---
All event related questions should be directed to Chris Tipton at coachtipton@northgasting.com or call 7064632148.