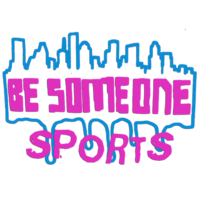 Messages
Summer Camp Opportunity!
Dear Parents,


We hope this email finds you and your families in good health and high spirits. Summer is here and we wanted to share some exciting news about our upcoming Be Someone Summer Sports Camp. It's a fantastic opportunity for your young athletes (K-6th) to stay active, learn new skills, and have a blast with their peers!


Last summer was our first year and it was a blast!! We plan on the same for this summer! Whether your child is an avid sports enthusiast or just starting their athletic journey, our camp offers a range of activities suitable for all skill levels.


To ensure you have all the details and necessary information, we encourage you to visit the link below:
https://besomeonesports.com/summer-sports-camp

There, you'll find dates, registration process, camp schedule, and frequently asked questions.


Here are some key reasons why our summer camp is not to be missed:


1. Expert Coaching: Our camp is staffed by a team of highly experienced and certified coaches who are passionate about fostering a love for sports and helping young athletes develop their skills.


2. Diverse Sports Activities: From volleyball to basketball, tennis, to speed & agility, we offer a wide range of sports disciplines that will keep your child engaged, challenged, and excited throughout the camp.


3. Team Building and Character Development: Our camp focuses not only on athletic development but also on instilling important values such as teamwork, sportsmanship, resilience, and leadership.


4. Fun-Filled Environment: We believe that sports should be enjoyable, and our camp provides a supportive and inclusive atmosphere where kids can make new friends, create lasting memories, and have a great time.


5. Safety Measures: Rest assured, the safety and well-being of our campers are our top priorities. We have rules set in place and review them each day before camp.


Don't miss out on this incredible opportunity for your child to have a summer filled with sports, growth, and adventure! Space is limited, so we encourage you to register early to secure a spot for your young athlete.


If you have any further questions or need assistance, please feel free to reach out to our dedicated camp coordinators, whose contact information is provided on the website.



Thank you for your ongoing support and participation in Be Someone Sports!! We look forward to welcoming your child to an unforgettable summer camp experience!
6/1/2023 7:00 PM
Schedule is posted
Hello everyone! The schedule has been released and should now be available on the app.

Dont forget we have optional packages available on our website for matching team gear. Get your backpacks, warm up shirts, parent shirts, compression sleeves all on line. at besomeonesports.com again these are completely optional and the uniforms come with the registration fee.

https://besomeonesports.com/shop/ols/categories/basketball-packages
5/29/2023 9:22 AM
Optional Package Items
Good Morning Be Someone Sports Basketball Family! Our optional player package items are on the website to purchase. Outfit your family to match and support your athlete! Get your orders in now to ensure delivery by the first game. See attached flyer for more information.
The following reports can be viewed, printed or downloaded.
More detailed reports can be found on the divisions page.
Reports
Other
---
All event related questions should be directed to Steve Passons at steve.passons@besomeonesports.com or call 832-421-2895.