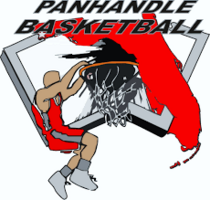 Messages
All American Games 2023!!
Good Morning Coaches!

If you have competed in a 2023 Panhandle Basketball Tournament and made it to the Championship game for your division, please send me your All American Game nominees for that particular event. If your team came in first for your division, please submit three players and if your team came in second for your division, please submit two players.Please include the following for each player and email to glidewell.panhandlebasketball@gmail.com:


Team Name:
Grade Division:
Name:
Parent's Email:
Parent's Phone Number:

Coach's Name:
Coach's Email:
Coach's Phone Number:
Player Jersey Size:

Notice!! The date for the All American Games in Panama City, Florida has changed to August 12 - 13, 2023. We are excited to announce that NBA trainer Ryan Goodson will be giving away two, (2) hour training sessions. Ryan has worked with Mac McClung, Steph Curry's Skills camp, Zach Levine and others. We are excited to add this FREE training session for participants of the All American games!

GOLDEN TICKET winners from the 2023 Panhandle Basketaball travel season will compete for the 2023 All-Star title! Who's ready for this premier showcase event?!? All Players receive a one-of-a-kind All American Game ring!!

Fees includes:
* Player's 3-Point Contest Entry
* All American Showcase Games for Each Division!
* Free Commemorative Jersey for Player to Keep
* Admission to "Friday Fun-Day"! (NOTE: All activities are weather-permitting)

We look forward to seeing the best of the best at the 2023 All American Games. Participants range from 2nd grade - Varsity. For questions please contact Brent Dillard 850-814-3281 or Chris Pfahl at SES (850-338-4578).

Please Submit ($50 Entry Fee) Payment to Confirm Entry:
Cashapp: $SEsports
Venmo: @BrentDillard40
Paypal: btdillard40@yahoo.com
7/6/2023 2:00 AM
Bracket Change Alert!!!!
Please look over the bracket and make sure you have the correct times.

Thank you
Panhandle Basketball
5/20/2023 8:04 PM
Schedule Change Alert
Please Look over the schedule, there has been a change to some of the games.
5/18/2023 2:10 PM
The following venues are being used for this event.
Pensacola Catholic High School
Santa Rosa Christian
---
All event related questions should be directed to John McDonald at panhandlebasketball@gmail.com or call (850) 380-0818.