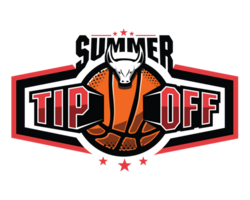 Basketbull
presents
BasketBull Summer Tip-Off 2023 Schedule
Springfield, Massachusetts
Messages
Discounted Tickets to HOF
Athletic Trainers
Saturday, June 17th

Western New England University (4 courts)

Dolci Eglesfield 401-218-3365

AIC (4 courts)

Lauren Jimison 570-817-1607

Westfield State University (3 courts)

Victoria Van Alstine-Tauer 303-525-1752

Sunday, June 18th

Western New England University (4 courts)

Ted Plamondon 860-559-5897

AIC (4 courts)

Lauren Jimison 570-817-1607

Westfield State University (3 courts)

Jerry Rosato 860-857-1857
6/15/2023 9:22 AM
Site Directors
Coaches,

Please see the below list of site directors for this weekend. If there are any tournament related issues, you are running late for a game, or have general scheduling questions, please contact your specific site director.
Western New England University
Paul Chmura (Sat only) - 413-563-7425
Colin Tabb (Sunday) - 857-540-9042

American International College
Colin Lockhart - 413-626-6262
Colin Hoffman - 413-205-9728

Westfield State University

Renee Click - 413-459-5117
6/15/2023 1:28 PM
Click on a division below or search for a team or athlete to view the schedule.
---
All event related questions should be directed to Colin Tabb at ctabb@basketbull.org or call 857-540-9042.