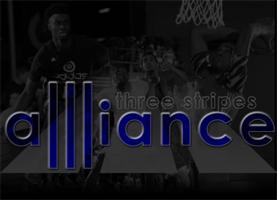 Three Stripes Alliance Teams
July 16-19, 2015 St. Louis, Missouri
Messages
Coaches,

Final updates have been made to the Three Stripes Alliance tournament. Please double check your schedule as you are responsible for being at your game on time. We will no longer make any changes to this final schedule as it has been sent to the College Coaches who will be in attendance. As always, you can find your schedule atwww.midwestpremierhoops.comor by downloading the Premier Hoops app on your iPhone or Android. Please respond to this email and simply confirm that you've received your final game times.

Tournament rules are attached.

Also, please have your team and players registered with CaptainU. This is a tremendous way to increase your exposure.

Thanks again! We're looking forward to this weekend.

Attachment
7/12/2016 11:53 AM
Coaches,
Once again thank you to everyone for participating in the 1st Annual Three Stripes Alliance St. Louis basketball tournament. With the schedule now set, everyone can receive updates on scores and brackets at www.midwestpremierhoops.com and by downloading our free "Premier Hoops" app on your Android or iPhone.
Registration will take place 1 hour before your 1st game, so please be on time and prepared we want to move things along as quickly as possible. We do require payment prior to the beginning of the tournament, so if you have not paid please do so TODAY. You can make an online payment by:
1. Navagating to the www.midwestpremierhoops.com website
2. Under the Three Stripes Alliance Tournament click on "Schedule and Results"
3. Click on "teams" in the top column
4. Click on "payments" in the top column
5. Click on "event fee" and follow the instructions from there
Thanks again and we look forward to having a tremendous event.

7/14/2015 10:09 AM
Coaches,
The Gateway Basketball Club and Premier Hoops would like to thank everyone for supporting the 1st Annual Three Stripes Alliance St. Louis basketball tournament. We have assembled some of the premier organizations in the country and are excited to host this elite event. Final schedules are now available at www.midwestpremierhoops.com or by downloading the free "Premier Hoops" app on your iPhone or Android.
Teams must check in at least 1 hour prior to their first game; both coaches and players are required to be at check in. Payment is required at this time. Please always double check your schedule, you are responsible for knowing your game times.
The mandatory NCAA video will be played on Thursday at 5:00pm, Friday at 9:00am, 12:00pm and 5:00pm and Saturday at 9:00am and 12:00pm. If any team fails to attend the video they will be dismissed from the tournament.

7/11/2015 10:06 AM
The following teams are officially participating in the Three Stripes Alliance.
Please note however, some participating teams may not be present yet. Click on the team to view more details.
15u Boys
16u Boys
17u Boys
---
All event related questions should be directed to Dan Otto at dottosports@gmail.com or call 3142103358.
YOUTH BASKETBALL EVENT, TOURNAMENT AND LEAGUE DIRECTORY
Market your event by submitting it to our directory.
Submit Event