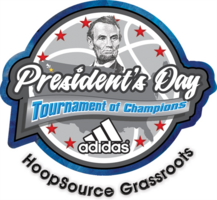 2017 - HoopSource Presidents' Day TOC
February 18-20, 2017 Portland, Oregon
Sponsors
Description
The President's Day running in its 17th year here in Portland (5th under new direction), has lineage in its past of 31 NBA lottery picks, 10,000 teams, 48 states, & highly touted media attention. Over the years we have worked hard to continue the tradition, and inspire new legacies with each year of the event. This tournament is a "must attend" basketball extravaganza year in and year out. We will be raising the bar this season. We are excited to be partnering with SLAM Magazine again this season, as well as numerous other syndicated media outlets such as Coast2Coast Preps, WCE25, and Basketball Prospects Report. Hosted in Portland, OR & Vancouver, WA, your program(s) will experience the greatness of the Pacific NW. For Hotel Information and more information on the "STAY-TO-PLAY" Policy on this event, please contact tcihousing.com or Natalie @ 801-432-8050! Thank you! We are also very proud to announce that we have been chosen as the NATIONAL QUALIFIER for Coast2Coast Prep LEAGUE FINALS next July. Top 2 teams from each division will nationally qualify for a bid to the LEAGUE FINALS Basketball Tournament, in Lawrence, KS, July 14-16,2017! This event will sellout EARLY. Last year we sold out with over 315 teams. Make sure to register your teams now so your spot is not taken. Please contact us with any questions. This tournament is rich in history and tradition. You will not be disappointed! See you on the court! Make sure to check out some of the MOST COMPETITIVE RATES offered in the areas of the tournament when travelling into town: http://tcihousing.com/hoopsource-basketball/
Tournament
All teams
Boys & Girls: 8th, 7th, 6th, 5th, 4th, 3rd, 2nd, 1st
Ability: Elite/Competitive/Developmental
$400.00 entry fee
4 Game guarantee
Exposure Certified event
Location
Multiple Locations (Vancouver, WA & Portland Metro, OR)
Headquarters: Mt. View HS (Vancouver, WA)
Portland

,
OR
Directions
General Information
Make sure to visit our homepage of offers for team dinners, sites, and things to do while in town in both the city of Vancouver, and Portland. Click these links: http://www.visitvancouverusa.com/hoopsource2017
https://www.travelportland.com/

This tournament offers some of the most competitive HOTEL RATES for you travelling into town: http://tcihousing.com/hoopsource-basketball/ or you can call Natalie @ (801) 560-4760.

- 2016 Highlight Video: YouTube
- Local Press Release: OREGONLIVE
- National Press Release: SLAM

* ALL AFFILIATION TEAMS WELCOME TO REGISTER!

NOTE: With the size of this tournament, we will be spanning across multiple facilities. This event will be one of the LARGEST events in the entire country. Games can potentially be played across multiple locations, this includes the Portland (OR) metropolitan area & Vancouver (WA). However, all games within one day will be played at the SAME location. Games will be played within 20 minutes of the Portland airport as a CENTRALIZED point. For Hotel Information and more information on the "STAY-TO-PLAY" Policy, please contact tcihousing.com or Natalie @ 801-432-8050! Thank you!

* Note: (First games can potentially be played at 9 am on Saturday morning)

We are also very proud to announce that we have been chosen as the NATIONAL QUALIFIER for Coast2Coast Prep LEAGUE FINALS next July. Top 2 teams from each division will nationally qualify for a bid to the LEAGUE FINALS Basketball Tournament, in Lawrence, KS, July 14-16,2017!

POWERED BY COAST 2 COAST PREPS & WCE 25!

* THE TOURNAMENT WILL CONCLUDE NO LATER THAN 4PM ON MONDAY, FEBRUARY 20TH, 2017.

* AN INDIVIDUAL PLAYER IS ONLY ALLOWED TO PLAY WITH ONE (1) SPECIFIED PROGRAM DURING AN EVENT!

* HOOPSOURCE EVENT DIRECTORS WILL HAVE THE FINAL SAY REGARDING ANY EJECTIONS, DISPUTES, OR RULINGS!
* ALL PARTICIPANT WAIVERS CAN BE MAILED TO (HOOPSOURCE, PO BOX 2142, CLACKAMAS, OR 97015) OR SCANNED & EMAILED TO (CONTACT@HOOPSOURCEBASKETBALL.COM).
---
All event related questions should be directed to Ryan Menten & Dave Walker at contact@hoopsourcebasketball.com or call 503.512.9197.
YOUTH BASKETBALL EVENT, TOURNAMENT AND LEAGUE DIRECTORY
Market your event by submitting it to our directory.
Submit Event