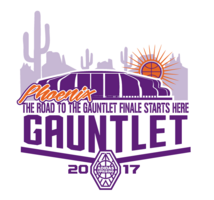 Messages
First Day Thoughts
Thank you all for day one at the Adidas Gauntlet Phoenix! There's obviously a tremendous amount of talent this weekend and a great showing of College Coaches watching your girls.

Having 20 courts at the University of Phoenix Stadium is awesome and the weather couldn't be better but we're always looking for ways to improve our events and we try hard to listen to our participating teams. Therefore, two important changes we will be implementing are:

All future Arizona Elite events we will be changing to stopped clocks. Every division, every game will have stopped time. We realize the importance of getting all players exposure and we feel this is the best way to do that.
Although we have qualified, certified trainers at both ends of the stadium, and EMS on site, we'll be doubling the number of staff due to the large number of teams.
Thank you for your time and we will see you all tomorrow!
Gary Pedersen
President, Arizona Elite Basketball
480-332-9848 4/21/2017 9:37 PM
Team Schedule & Check-in
Coaches,
Please check your schedule as some minor changes have occurred due to a late drop out.

Check-in Procedure:

All Coaches must check in at the University of Phoenix Stadium Thursday between 2 - 9 pm. One coach cannot check-in all coaches.
Bring valid ID.
Players are welcome to check out the stadium but not required.
Coaches not on the roster will not be allowed free entry.
The NCAA process is new for 2017 as you know so please make sure your roster is accurate and complete to expedite the check-in process.
If you have your Gold License you still may not be approved by the NCAA. They have a final signoff on all coaches. If you're on your team roster you're good to go.
Thank you all and we look forward to seeing you soon.
Gary Pedersen
4/17/2017 10:07 AM
Free Iphone/Android App
One week from today Team Check-in begins for the Adidas Gauntlet at the beautiful University of Phoenix Stadium!

A quick tip for following your team schedule, tracking brackets and getting up to the minute game scores is our free "Arizona Elite Basketball Club" app available for both IOS devices and Android. Just search the store for "Arizona Elite Basketball Club" and the free download will get you connected with a simple to use app for all of your participating teams.
4/13/2017 5:01 PM
Adidas Gauntlet Schedule
Coaches, the 2017 Adidas Gauntlet Schedules are now Live!
Please understand that we've done our best to honor all Team requests and we are unable to make any further changes to the schedule.

Parents, Fans and friends can follow their favorite team with the free Apple and Android Apps. Scores will be posted immediately following each game. We look forward to seeing you in sunny Phoenix soon! All the best,

Arizona Elite Staff
4/10/2017 4:52 PM
Urgent Coaches!
Coaches, only 61 of 220 teams have submitted their NCAA BBCS information for the Adidas Gauntlet - Phoenix event.

We cannot allow any coaches or players to participate if this is not completed. The approval process for coaches can take three weeks and we only have a little more than four weeks until the event.

The approval process is outlined on our site:
Adidas Gauntlet Phoenix April 21-13, 2017

Payment and Registration Deadline is April 1st.
All rosters need to be complete and coaches approved by April 11th to make the NCAA College Coaches Packet.
3/27/2017 1:53 PM
Summer Classic Discout
Hello coaches. Please see the attached flyer for team discounts to our Summer Classic event held July 23-25! Thanks, Gary Pedersen
Registration & Payments
Hello Coaches.

As a reminder, the registration and payment deadline for the Adidas Gauntlet - Phoenix is March 31st, 2017. Please make any necessary arrangements to make this happen.

Also, it's vital that you complete your coaching and athlete approvals and create your rosters for the event. We cannot allow any coach or athlete to play in the event if they are not approved prior to the event.

If you have any questions regarding the process please don't hesitate to phone me.

Thank you all,

Gary Pedersen
480-332-9848
3/20/2017 12:55 PM
Create your Teams
Coaches please see the attachment on how to create a Team.
As a coach complete your BBCS requirements. Then add all coaches and players to your bench for all of your organizations teams. From there you will create your individual team rosters and pull coaches and players from your bench. You will be directed to add Team Names during the process. As of midnight the night before the event the rosters will be locked and cannot be edited.
Please get your athletes completed and your coaches completed as we aren't able to allow anyone to participate if not done so. Thanks,

Gary Pedersen
480-332-9848
Gauntlet Phoenix Read!
Please don't delay all Coaches and Players. Each Coach AND Player must create their own account on the new BBCS System.

April is coming fast so please get this done now. We cannot allow any coach or player to participate if they aren't complete with their online requirements. Thanks,

Gary Pedersen
Adidas Gauntlet/Phoenx-Glendale
480.332.9848
Click on a division below or search for a team to view the schedule.
---
All event related questions should be directed to Gary Pedersen, Arizona Elite Basketball Club, llc at gary@arizonaelite.net or call 480-332-9848.