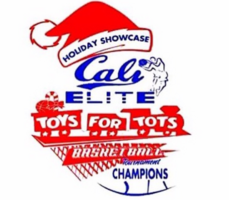 CHARITY - TOYS4TOTS HOLIDAY SHOWCASE
December 2-3, 2017 Corona, California
Messages
Description
CHARITY EVENT... TOYS4TOTS PLEASE IF EVERYONE CAN DONATE A NEW UNWRAPED TOY WORTH $5.00 IT WILL HELP US TO HELP FAMILES IN THE COMMUNITY THAT CANNOT AFFORD IT.... Players Edge: Corona CA & Surrounding Schools $250 per team ($200 with a $5 toy donation from each player!) OSight Media @iesportsnet Committed teams from CA, NV, AZ, - from all over the West Coast! Call 909-717-7031 or visit CaliEliteBasketball.com to Register AAU Sanctioned – New Age Rule (2-Grade Exceptions) IndiHoop Certified (Ranking Event) NATIONAL HS RULES CIF Officials Online Scores & Schedules Full Snack Bar/Clothing Vendors New Gyms/Free Parking On-Sight Media w/ @IESportsNet BODY ARMOR TESTING STATION Gate: $10 Visit our Website @ CaliEliteBasketball.com ~ OR ~Contact: Coach Anthony @ 909-717-7031 | Email: EliteSports_Basketball@aim.com #CaliEliteBasketball #QUALITYEVENTS #TOPTEAMS #RANKEDTALENT #MEDIACOVERAGE #EXPOSEORBEEXPOSED #DONTBESHY #BRINGEMOUT #LINEEMUP
Tournament
All teams
Boys & Girls
D1/D2/D3 ability level(s)
$250.00 entry fee
3 games guaranteed
Exposure Certified event
Location
PLAYERS EDGE
1871 N. DELIAH ST
Corona

,
CA
,

92881
Directions
General Information
CHARITY EVENT... TOYS4TOTS PLEASE IF EVERYONE CAN DONATE A NEW UNWRAPED TOY WORTH $5.00 IT WILL HELP US TO HELP FAMILES IN THE COMMUNITY THAT CANNOT AFFORD IT....
Players Edge: Corona CA & Surrounding Schools
$250 per team ($200 with a $5 toy donation from each player!)
OSight Media @iesportsnet
Committed teams from CA, NV, AZ, - from all over the West Coast!
Call 909-717-7031 or visit CaliEliteBasketball.com to Register
AAU Sanctioned – New Age Rule (2-Grade Exceptions)
IndiHoop Certified (Ranking Event)
NATIONAL HS RULES
CIF Officials
Online Scores & Schedules
Full Snack Bar/Clothing Vendors
New Gyms/Free Parking
On-Sight Media w/ @IESportsNet
BODY ARMOR TESTING STATION
Gate: $10
Visit our Website @ CaliEliteBasketball.com ~ OR ~Contact: Coach Anthony @ 909-717-7031 | Email: EliteSports_Basketball@aim.com #CaliEliteBasketball #QUALITYEVENTS #TOPTEAMS #RANKEDTALENT #MEDIACOVERAGE #EXPOSEORBEEXPOSED #DONTBESHY #BRINGEMOUT #LINEEMUP
AAU Licensed
AAU Licensed #: 18SPBA3777
This event is licensed by the Amateur Athletic Union of the U. S., Inc.
All participants must have a current AAU membership.
AAU membership may not be included as part of the entry fee to the event.
AAU membership must be obtained before the competition begins except where the event operator has a laptop available with an internet connect. Participants are encouraged to visit the AAU web site to obtain their membership.
USA Youth Development Certified
Verify that this organization is USA Youth Development certified by visiting the organization lookup on the USA Basketball site.
The USA Basketball Licensing and Accreditation programs set national standards for coaches, administrators and organizations as they strive to become their best. These initiatives aim to enhance enjoyment, participation and development in the game through coach education and training. Make a commitment to the values of fun and safety by imparting the USA Basketball curriculum and guidelines.
Jr. NBA Member
The Jr. NBA is the official youth basketball participation program of the NBA. The Jr. NBA includes a free, membership-based program for existing youth basketball leagues/organizations. The membership is to help encourage and support youth basketball participation at the grassroots level and improve the overall youth basketball experience for all participants. The Jr. NBA aims to develop a lifelong passion for the game of basketball in boys and girls ages 6-14 by teaching them the fundamentals of the sport while instilling core values including teamwork, respect and sportsmanship.
THE JR. NBA, NBA, AND NBA PROPERTIES DO NOT IN ANY WAY CONTROL OR OPERATE THE ACTIVITIES OF ANY JR. NBA LEAGUE OR TEAM.
IndiHoops Certified
IndiHoops certified events have a higher potential for voters of our rankings panel to see and rank your results of the event.
We encourage these events to our use our registration system and post events in our tournament directory for maximum organization and promotion. They must at least be a BASIC event operator member.
IndiHoops certified events wants COMMITTED and ORGANIZED club basketball programs. We strive to get payments before tournament in timely manner, so that the schedule can come out at least one week before the event.
Any teams who abuse the rules and are difficult with event registration fee process, this information can be used within our network to protect future operators.
We encourage tournament operators to use EXPOSURE as they can display their schedule on IndiHoops.com and helps make the event more organized with better communication.
IndiHoops Certified Event operators strive to be well educated and implement knowledge from How To Run The Best AAU Basketball Tournaments blog series.
IndiHoops Certified Event aims to make the experience enjoyable for all and safe.
---
All event related questions should be directed to Anthony Nichols at elitesports_basketball@aim.com or call 9097177031.
YOUTH BASKETBALL EVENT, TOURNAMENT AND LEAGUE DIRECTORY
Market your event by submitting it to our directory.
Submit Event