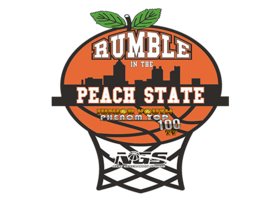 RUMBLE IN THE PEACHSTATE Schedule
May 18-20, 2018 Atlanta, Georgia
Messages
WELCOME TO THE RUMBLE IN THE PEACHSTATE
. Next Generation Sports and Junior Youth Phenom has teamed up to bring you the largest youth exposure tournanent Atlanta has seen. 190+ teams from Maryland, Virginia, Louisiana, New York, Ohio, Indiana, Tennessee, Texas, Georgia, Alabama, North Carolina, South Carolina, Florida, Kentucky, Missouri, and Mississippi will be participating in this event. We thank you in advance and we hope you have a great experience.
GENERAL INFORMATION
Please complete and print a minimun of 6 scoresheets for this event. Scoresheets should include team name, players first and last name, and jersey number. See attachment.
Please download the Next Generaion Sports app for view schedule details. Follow your team to recieve schedule updates by text message.
Player Admission: All players must wear their uniforms for admission into the facilities.
General Adult Admission Fee:
Friday
- 8.00,
Saturday
- $15.00,
Sunday
-$15.00. Weekend pass $25.00
General Children Admission Fee: 6 years old and under are free. Kids 7-12
Friday
- 5.00,
Saturday
$8.00 and
Sunday
$8.00 Weekend passes $15.00.
Armband must be worn at ALL times in order to enter gym facilities (no exceptions). Weekend bands must be worn on wrist for the duration of tournament. Lost or damaged bands will be not be replaced.

We are looking forward to seeing you at the Peachstate.
TOURNAMENT RULES
Attachment
5/17/2018 11:34 PM
Standings
No pool found for this division.
* Game(s) won't count against standings
Schedule
No games were found scheduled.
* Games won't count against standings
Brackets
No brackets found in this division.
---
All event related questions should be directed to Marion Lee at info@ngsports.net or call 470-550-3437.
YOUTH BASKETBALL EVENT, TOURNAMENT AND LEAGUE DIRECTORY
Market your event by submitting it to our directory.
Submit Event