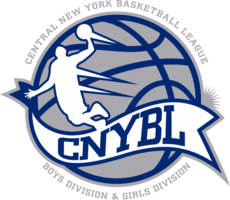 Central New York Basketball League Schedule
December 2 - March 4, 2018 Syracuse, New York
Messages
Good evening everyone! The Syracuse Select Basketball Staff has posted the 4th grade - 6th grade week three - six here
CNYBL Schedule
and week one through four for grades 7th - 9th grade. All games will be played at the Hamilton Street Boys and Girls Club of Syracuse 201 Hamilton Street, Syracuse, NY 13204.
League Game Rules
Parking is always an issues so please arrive early. If you are in need a space to park, please feel free to use the parking lot at the OLD Denny Restaurant adjecent from the Boys & Girls Club. The address is 1410 West Genesee Street, Syracuse, NY 13204. Please not to park while at teh Boys & Girls Club are St. patrick Church Parking lot and Rosie O' Grady's Sport Bar directly across the street. Any space ypou find in fron or on a side street is ok to park (rememember to follow all parking signs posted). The parking space along side of the West side of the Boys & Girls Club are open for you as well.
Spectator behavior please remember that your behavior while at the Boys & Girls Club of Syracuse as you watch your child play in the Best youth Basketball league in Central New York should be on your best behavbior. The following will not be tolerated.
Microsoft Word - Sample_Sportsmanship_Announcements
The administration, staff and students of Syracuse Select Basketball, Boys & Girls Club of Syracuse, The Central New York Basketball League supports our leagues associations in making Good Sportsmanship a priority. Negative comments and acts directed toward players, coaches, fans, or officials do nothing positive in the development of these young people as future citizens. Be a Good Sport for your Students, School, and Community. If you are found not following this simple request you will not be warn. You will be asked to leave our Boys & Girls Club and your future admittance to future games will be reveiwed by the Commisioner Shawn Pudney. His decesion is final. Let's have a great year of basketball!

12/31/2017 6:28 PM
Standings
No pools found for this division.
* Game(s) won't count against standings
Schedule
No games were found scheduled.
* Games won't count against standings
Brackets
No brackets found in this division.
---
All event related questions should be directed to Patrick "Shawn" Pudney at spudney@verizon.net or call 315-224-1401.
YOUTH BASKETBALL EVENT, TOURNAMENT AND LEAGUE DIRECTORY
Market your event by submitting it to our directory.
Submit Event