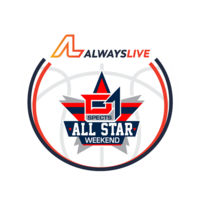 ALWAYSLIVE : 11th ANNUAL D1 ALLSTAR WEEKEND
August 24-25, 2019 Powder Springs, Georgia
Description
11th All Star Weekend
Tournament
All teams
Boys & Girls
Ability: Elite/Competitive
$200.00 entry fee
3 Game guarantee
Location
McEachern High School
2400 New Macland Road
Powder Springs

,
GA
,

30127
Directions
General Information
EVENT INFORMATION
All Star Uniform Pick-up @ Host Hotel Radison Hotel Atlanta Marietta- 6-10pm Friday.

Please bring a copy of your receipt to registration..
2. Admission: Admission is $15 per Saturday $15 Sunday or you may purchase a weekend pass for $25.00 Available Friday Only. Children under 6 are free.
3. Uniform: Please wear your Travel Team/AAUUniform on Saturday August 24
5. ALL ACTIVITIES ARE AT MCEACHERN HIGH SCHOOL!!
6. Venue: McEachern High School- 2400 New Macland Road, Powder Springs , GA
FRIDAY , AUGUST 23 - HOST HOTEL TBA- PRE-REGISTRATION - 6:30 -9:00PM
SATURDAY, AUGUST 24
8am - 11:00am Registration – McEachern High School
11:00 am - 12:00 AM Opening Ceremonies . (PLEASE WEAR YOUR AAU UNIFORM)
11:30 -12 PM LUNCH


12:00 AM - 12:15PM . - MEET THE COACH

Skills Competition - 1st -6th Grade 12:30pm - 2:00pm

8th-HS Boys/Girls 2:30- 4:30 pm
SCHEDULE NOW POSTED -FIRST ROUND ALL STAR GAMES - 4:30PM - 7:30PM . (ALL TEAMS)
SUNDAY , AUGUST 25
CHAMPIONSHIP SUNDAY - (ALL TEAMS )
- Schedule will be published via exposure events . Game MVP will receive a Banner
Lunch
Lunch will be available at the concession stand
D1Spects Travel
***********
If you made a D1spects All Tournament Team and your name is not listed ...Please contact Harold Thompson 404-454-2919
ALL STAR SKILLS COMPETITION
9:00 AM- 11:00 AM 1ST -5th GRADE BOYS/GIRLS
11:05AM - 1:00 PM 6TH - 11TH GRADE BOYS/GIRLS
ALL STAR SKILLS COMPETITION
9:00 AM- 11:00 AM 1ST -5th GRADE BOYS/GIRLS
11:05AM - 1:00 PM 6TH - 11TH GRADE BOYS/GIRLS
ALL STAR SKILLS COMPETITION
9:00 AM- 11:00 AM 1ST -5th GRADE BOYS/GIRLS
11:05AM - 1:00 PM 6TH - 11TH GRADE BOYS/GIRLS