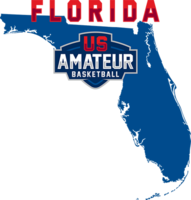 Florida Sunshine Classic
February 29 - March 1, 2020 Port Charlotte, Florida
Description
Tournament
All teams
Boys & Girls: 12th, 11th, 10th, 9th, 8th, 7th, 6th, 5th, 4th, 3rd, 2nd
Ability: Elite/Competitive
$335.00 entry fee
3 Game guarantee
Location
General Information
Coach,
Thank you for participating in the Florida SUnshine Classic Tournament this weekend. We look forward to having you attend the tournament. Please be sure to download the Florida US Amateur Basketball app to stay up to date while you are at the tournament. Here are some things to be aware of for this weekend.

Tournament Check in:
Saturday 9am - 2pm
Port Charlotte Middle School
23000 Midway Blvd.
Port Charlotte, FL 33952

YOUR TEAM IS REQUIRED TO CHECK IN AT EVERY EVENT
ALL COACHES MUST PASS A BACKGROUND CHECK PRIOR TO COACHING IN A GAME. YOU WILL NOT BE ABLE TO TURN APPLICATIONS IN AT CHECK IN AND GET A PASS FOR THE WEEKEND.
Please visit the The American Coaches Association website to apply
You MUST have a copy of your official roster
printed off of the www.usamateurbasketball.com site.
This does not include hand written rosters or any other typed roster.
The roster MUST be printed off US Amateur Basketball national site. This is mandatory to play.
Every team MUST have a signed copy of our Florida Policies and Procedures as well as a signed copy of the National Rules in their team book.
Visit Rules section to print your copy or each.
You MUST have for every player:
Birth Certificate
Report Card
Current Picture
Any player missing any one of the requirements will not be able to play.
Any teams not showing up to check-in, during the check-in times will forfeit all games.
All coaches MUST be a member of the ACA. If you do not have your card you will not be allowed to sit on the bench. Please have your membership card visible at all times.
Players must accompany their coach to check-in at the first tournament of the year they participate in and at the state and national tournaments.
Double Check to be sure you have everything
Official US Amateur Basketball "Printable" Roster
2. Signed Copy of the Florida Policies and Procedures
3. Signed Copy of National Rules
4. Birth Certificates for every player
5. Grade/Report Cards for every player
6. Current Pictures for every player
7. ACA cards (Florida Events Only, not needed for Nationals)
8. Scoresheets
Teams are responsible for their own warm-up basketballs
When looking at the schedule tab The Home team is listed on the bottom. If you are looking at a bracket the home team is listed on top.

Admission
Adult - $10 Daily
Kids(6-18) - $5 Daily

Mobile Check-in is available for those teams that have completely checked in at a previous tournament. Please text a picture of your roster to Michael Foss at 813-355-1565. If it is approved he will respond that you team is checked in. If you do not receive a response you are still required to report to check-in.
If you have any questions or concerns please contact
Sean Bailey
Sean.ccyb@gmail.com
941-875-4886
US Amateur Sanctioned
US Amateur Basketball provides a cohesive national basketball platform that brings together the top grassroots tournament operators from around the country. Our goal is to bring together these various tournament operators to standardize and increase the quality of the tournaments being offered.