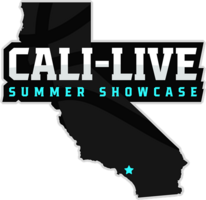 A.C.E.S. BASKETBALL
presents
CALI-LIVE SUMMER SHOWCASE 2023 NCAA CERTIFIED DENY BASKETBALL 2024
Messages
Mandatory Check-In Info!
Good morning coaches, please see below for Mandatory Check-In Info!

Mandatory Check-in at Cambria Hotel
(101 E Katella Ave, Anaheim, CA 92802)
Friday, July 7, 8:00 am - 9:00 pm
Saturday, July 8, 8:00 am - 5:00 pm

*REMINDER* All coaches must bring a valid ID and Gold License Number to complete the check-in process.· You must check in prior to your first game!
7/5/2023 9:52 AM
---
All event related questions should be directed to Prince Cassell at PRINCE.CASSELL@OUTLOOK.COM or call 714.470.1282.