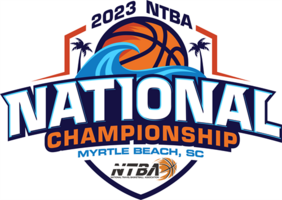 NTBA
presents
2023 NTBA BOYS NATIONAL CHAMPIONSHIP I ("Grade Based") Teams
Myrtle Beach, South Carolina
Messages
Awards Presentations
Champion & Runner Up report to end of lobby past tix sales immediately following game.
7/15/2023 11:15 AM
Game Location Today
Please double check the location of your games today for bracket as several gyms are being used.
7/14/2023 8:37 AM
Check Scores
Coaches check your score from today.
7/13/2023 7:00 PM
Venues
Pay close attention to the gym & time you play Fri. Additional venues are being used.
7/13/2023 6:55 PM
Check Your Scores
Coaches check your scores in the app. Report any issues to an NTBA representative immediately.
7/12/2023 5:00 PM
Players in Full Uniform
Players must be in full uniform to enter the gym.
7/12/2023 11:51 AM
Reminder: Ejections
Per NTBA rules any coach or player ejected must sit out the remainder of that game & the next game.
7/12/2023 11:03 AM
Check Your Scores
Coaches please check your scores on our app after each game. Please report any discrepancies to an NTBA site director immediatly.
7/11/2023 1:30 PM
Announcement/Reminder
No boom boxes/music is allowed to be played during pre-game warm ups at the MBSC.
7/11/2023 11:07 AM
The following teams are officially participating in the 2023 NTBA BOYS NATIONAL CHAMPIONSHIP I ("Grade Based").
Please note some teams may not be present yet. Click on the team to view more details.
---
All event related questions should be directed to NTBA at info@playntba.com or call 800-790-6822.