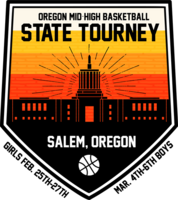 Messages
2023 Boys State Tourney
Coaches,

Circle the Date; the Oregon Middle School Boys State Championships Return on March 3-5. We look forward to hosting your school-based teams this year and creating a state tournament experience you won't forget!

Registration is open for Oregon Amateur Basketball Winter Leagues and Tournaments. All events are qualifers for the Oregon State Championships held in Salem (February 24-26 (Girls) & March 3-5 (Boys))

Oregon Amateur Basketball Tournament Divisions available for 3rd grade through 8th Grade Boys & 4th Grade through 8th Grade Girls.

Information on the Boys and Girls State Tournament including a full list of qualifiers can be found on the state tournament website: http://www.statetourney.com

Please visit our website: http://www.oabbasketball.com for more information on pricing and to register.
11/9/2022 7:59 PM
Coaches Check-In
Coaches,

Thank you to everyone who went by the Capitol Field House tonight and checked in. There are about 30 teams tomorrow that still need to check-in.

If you checked in tonight, you have your bracelet and are good for the weekend. Keep it on all weekend!

As we go into Saturday, we are no longer requiring everyone to funnel through Capitol Field House. All 3 coaches (or 2 coaches and 1 scorekeeper) can check in at the facility they are playing at tomorrow. Ultimately, we saw how inconvenient this was for teams tonight and we are not going to replicate that again tomorrow with the remaining teams.

A couple things don't change:

1) Kid on a different team -If you are watching a kid on a different team or a different team in your program, you must go to your gym first to get your wrist band. You cannot check in at a different facility than you are playing at. Example: You play at North Salem at 6 pm, but want to watch a game at McNary at 11 am. You'll need to check in at North Salem to get your bracelet before going to McNary.

While we know it's still an inconvenience, it will be an inconvenience for much fewer people.

2)SWAG BAGS -Those can only be picked up at Capitol Field House. You must send at least one person to CFH to get your SWAG bag. You cannot get your bracelet at this time. Swag bags will now be separate from coaches check-in.

3) GIVE YOURSELF AN EXTRA 10 MINUTES -Our front desk staff is extremely busy. Do not rush past them because you are running late to a game. They are instructed to hold you. The initial plan to centralize check in at CFH was to reduce stress on our staff. This change puts additional work on them. Please do not compound that by trying to blow past the check-in. These people have a job to do.....a job that just had an extra task thrown on them tonight. Please be respectful of them.

Thank you everyone for your support. We are looking forward to making this a great weekend for your families.






3/4/2022 11:19 PM
Coaches & Scorekeepers
Coaches & Scorekeepers,

All coaches & scorekeepers must check in at the Capitol Field House to get their weekend wristband. These bracelets MUST stay on all weekend, they cannot be exchanged with "other coaches" or "other scorekeepers". They cannot be flashed at the door as you are walking in. They must be on your wrist. Thank you for your help with this matter.

Each team will be alloted 3 weekend passes. Once 3 people have claimed the passes, they are done. Please settle which 3 people will be getting these passes.

IMPORTANT -These passes can only be picked up at Capitol Field House. They cannot be picked up at the high school gyms. Coaches & Scorekeepers cannot check in at the high schools. THEY MUST CHECK IN AT CAPITOL FIELD HOUSE!

TEAM REQUIREMENTS -Each team must provide a scorekeeper. If we have the staffing to cover games, we will; howevever we don't have appropriate staffing levels to cover all 18 courts with scorekeepers. We recommend allotting one of your weekend passes to your scorekeeper.

Thank you for your attention to these matters. We look forward to hosting your group this weekend.

3/3/2022 7:45 PM
Schedule Posted
Coaches & Parents,

WE ARE LIVE!

The schedule for the Oregon Middle School Boys State Championships is posted to the Oregon Amateur Basketball app and website.

FRIDAY GAMES - Do not show up more than 30 minutes early for your games on Friday if you are playing the first game at a High School. We have a tight turnaround with high school spring sports practices using the gyms. There is no point in showing up more than 30 minutes early; you'll be waiting in your cars while we flip the gyms.

-Nick
3/1/2022 11:41 PM
Scheduling information
Coaches & Parents,

The field of teams for the Oregon Middle School Boys State Championship is posted to our website: http://www.oabbasketball.com

Please verify you are in the correct division and notify us of any errors by 12 pm tomorrow at: info@oabbasketball.com

FORMAT -All divisions will be straight bracket play; there is no pool play. In general, the brackets are set up to allow a team to overcome a single loss on Friday or Saturday and play in the champion rounds Sunday. Teams cannot overcome a loss on Sunday regardless of performance to that point. The exact format of the bracket depends on the number of teams in a division.

SCHEDULING -As has been previously communicated, all teams must be prepared to play at any time this weekend. Games can start as early as 4 pm on Friday with last game tipping off at 8:45 pm. Saturday game times will start as early as 9 am with last game tipping off at 8:45 pm. Sunday games will start as early as 8 am with last game tipping off as late as 6:30 pm. I know those windows vary a bit from what was communiated earlier in the day. We were notified today of some changes to gym schedules which has a small impact on Saturday & Sunday times.

TIME REQUESTS -As previously communicated, we are not accepting time requests for this weekend. However, we realize that 4 pm on a Friday is an inconvenient time to play for most people. We are doing our best to minimize those games. If 4 pm is a preferable time for you to play (as opposed to later in the evening), please e-mail us: info@oabbasketball.com Teams do not have the option to "opt-out" of Friday games. Not every team will play Friday, however every team needs to be prepared to play Friday.

ELIGIBILITY AND REGISTRATION -Questions regarding eligibilty and registration need to be directed to Hemingway Huynh. He is the point of contact for all eligiblity questions. You can e-mail him at:team@statetourney.com

We look forward to hosting your program this weekend,

-Nick Larsen
(541) 517-4160



2/28/2022 9:17 PM
Click on a division below or search for a team to view the schedule.
---
All event related questions should be directed to Nick Larsen at info@oabbasketball.com or call 541-517-4160.