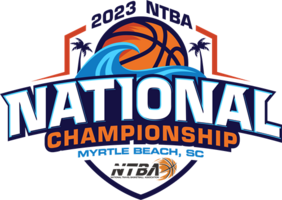 NTBA
presents
2023 NTBA BOYS NATIONAL CHAMPIONSHIP II ("Age Based") Documents
Myrtle Beach, South Carolina
Messages
Award Presentations
Champion & Runner Up report to end of lobby (past tix sales) immediately following the game.
7/23/2023 10:05 AM
Scores
Coaches check your scores. Report and issues immediately to an NTBA official.
7/21/2023 7:00 PM
Players in Uniform
Players MUST be in full uniform to be admitted into the gym. Thanks!
7/20/2023 8:03 PM
Check Scores
Coaches please check your scores on our app. Notify an NTBA official immediately if a score is posted incorrectly.
Thanks!
7/20/2023 7:53 PM
The following reports can be viewed, printed or downloaded.
More detailed reports can be found on the divisions page.
Reports
---
All event related questions should be directed to NTBA at info@playntba.com or call 800-790-6822.