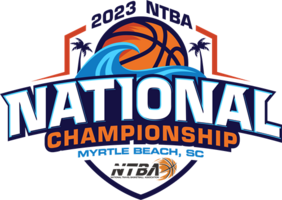 NTBA
presents
2023 NTBA BOYS NATIONAL CHAMPIONSHIP II ("Age Based") Teams
Myrtle Beach, South Carolina
Messages
Award Presentations
Champion & Runner Up report to end of lobby (past tix sales) immediately following the game.
7/23/2023 10:05 AM
Scores
Coaches check your scores. Report and issues immediately to an NTBA official.
7/21/2023 7:00 PM
Players in Uniform
Players MUST be in full uniform to be admitted into the gym. Thanks!
7/20/2023 8:03 PM
Check Scores
Coaches please check your scores on our app. Notify an NTBA official immediately if a score is posted incorrectly.
Thanks!
7/20/2023 7:53 PM
The following teams are officially participating in the 2023 NTBA BOYS NATIONAL CHAMPIONSHIP II ("Age Based").
Please note some teams may not be present yet. Click on the team to view more details.
---
All event related questions should be directed to NTBA at info@playntba.com or call 800-790-6822.