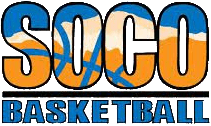 SoCo Basketball
The SOCO Basketball League (Southern Colorado Basketball League) started in the Spring of 2002. Since then, SoCo has expanded, running quality basketball leagues each spring as well as fall. SoCo is governed by a Board and League Directors Dan Hugill and Ron Clarkson. Many fundamental decisions are made by the Board and League Directors. The day to day operations for camps, as well as spring and fall leagues, are driven by the latest Commissioner, Director of Development and Communications, Director of Team Services and Relations, Director of Marketing, Official Assigner. the Director of Media Relations and Skill Development along with a number of site directors. If you have any questions, comments or concerns, please email us. We want SoCo to be better each year, for the good of our youth! SOCO BASKETBALL'S MISSION Southern Colorado Basketball (SoCo) is a locally owned organization that emphasizes good sportsmanship and fair play. Throughout the year, SoCo offers numerous different basketball opportunities to kids and teams to include leagues, tournaments, and camps. Integrity and character are attributes that are fostered through the time spent participating in SoCo Basketball. League Information: The SoCo League is available to teams interested in taking their skills to the next level. Coaches who have either a boys team, or girls team in grades 4th-8th (during the present school year) can sign up their team for our fall and/or spring league. Both leagues include an eight game regular season that leads to a single elimination tournament. There are no admission fees for spectators during the 8 regular season league games. SoCo provides the organization for the league, all game sites, referees, t-shirts (not uniforms), awards for the tournament winners and insurance for games. SoCo will also provide liability insurance for facilities at which your team practices and plays. This is included in the cost of SoCo. Teams must be registered or related the SoCo league or tournament for the insurance to be effective. If you need your practice facility covered, as an additionally insured facility, please contact us.
No entries found for this search.
Choose a sport to begin search.